Campfire Cooking. Treat The Family To Your Culinary Best
Ahh, Campfire cooking. Almost anything in the line of food tastes great when it is cooked outdoors isn't it! The joy of cooking a delicious meal over the campfire cannot be matched.
There are so many opportunities to try on the gang. You may want to do cast iron cooking over the campfire or try a dutch oven cooking utensil. Crock pot cooking is so easy you may want to keep it simple with one of these great camp recipes.
Camp cooking doesn't require cooking courses to make you out as an expert in the art. Cooking for a crowd or cooking for two is only a matter of cooking measurements. For instance, cooking lobster tails for two is no different than cooking for ten. Simply use a bigger pot for campfire cooking.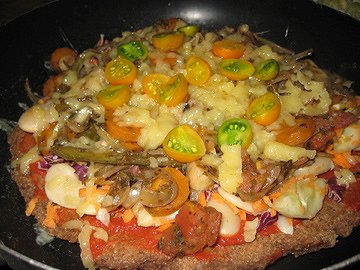 Pictured is a delicious Bean and Veggie Pizza
Some years ago Irma and I were visiting my sister Terry and her husband Bob on their cruiser on Shushwap Lake, a magnificent jewel located near the picturesque city of Salmon Arm at the northern end of Okanogan Valley in beautiful British Columbia. The lake is shaped like the letter H. At the crossover to the two arms the province set up a marine campground, accessible only by water. After camping in this unbelievable site for the night we were treated to a breakfast fit for royalty. It consisted of eggs, bacon, sausage, ham and pancakes and all other goodies that were cooked on a heavy, ½ inch thick, steel plate that had been crafted by my sisters friend who was a welder. He brought the steel up to the heat he wanted and then cut the fire back to the optimum level for slow but steady cooking. What a feast. What a setting. This beautiful lake is huge with both arms approximately 50 Kilometers long. Tourists flock here to cruise the lakes in one of the hundreds of amazing houseboats that are for rent. It's a paradise and a great place to practice your campfire cooking skills.
Be sure to read
my way of camping cooking
for a good laugh.
Cooking thanksgiving turkey might be a bit of a challenge for a campfire but it can be done.
Healthy cooking recipes and low fat cooking should not be overlooked. Simple cooking on a camp stove is easy. Depending upon your camp, you may have the use of a barbecue cooking device where you might produce your favorite drunken chicken dish. Cooking filet mignon cooking steaks on the grill will have your camping guests sniffing around long before you are ready to serve. The aromas carry a long way in the wild. If you are into full time rving you may be set up for gas grill cooking.
Try this Lip smacking grilled paprika chicken recipe.
We love this chicken marinade recipe.
Simple cooking can even be done using a solar cooking utensil. You may not be able to handle a 20 pound turkey using the power of the sun but you may want to try smaller cuts. Thin slices of cooking ham may be a better choice.
Cooking game such as venison is a piece of cake using campfire cooking recipes. What better way to celebrate the hunt. Can you imagine the aroma that would fill the air around the campsite!!!
Perhaps you love the taste of seafood. Cooking king crab legs is very similar to cooking lobster. It is so easy. Time is critical though. Then there is fish. Nothing can be better when cooked outdoors. Cooking scallops along with your favorite cut of salmon, trout or halibut will have your taste buds pinging.
Superior Immune System Health and Function is our Best Cell Defense against disease, fatigue, illness, pollution, premature aging, stress, viruses and more. Discover the health and wellness benefits from Nutritional Dietary Support at Healthy is Wealthy
Here are our favorite recipes
Our local Chinese buffet serves a great sweet and sour recipe as well as chicken fajita recipe that is very popular although we wonder how they came to include such a dish in their restaurant. They use quick easy chicken recipes such as chicken and pasta recipes. One item you will not find on the buffet table are low carb chicken recipes. Before you run to the computer to look up some popeyes chicken coupons you may want to fire up the bbq and try beer butt chicken as it is delicious.