Motorhome rental. The Ultimate Way to See Canada.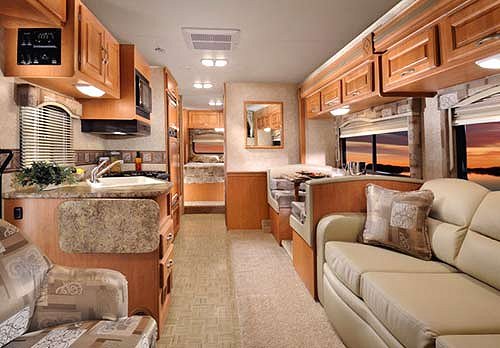 Inside View of a Modern Motorhome Rental
Motorhome rental is an absolutely wonderful manner of seeing the Rockies and coast Mountains and Valleys, Prairies cities and by-ways of Canada.
If you have never owned an RV then a wise decision would be to rent one. By renting you will learn first hand what driving and living in a motor home is all about.
You have quite a lot to learn before you hit the road. The motorhome rental dealer will take the time to show you everything there is to know about the operation of the vehicle as well as to how to drive safely, how to park, how to fill the water tank, fuel tank, and how to empty the grey and black water tanks.
What is a Motorhome?
You are renting a home on wheels. It will have a sink and a bathroom with shower. Propane gas stove. Air conditioning unit. Battery. TV and sound system, power system, perhaps a slide out, storage spaces of all types and dozens of other features.
Outside the unit may have carriage jacks on some models. Electrical power cables. TV cables. Water supply hoses. Wheel jacks and tools. Awning. Propane fuel tanks. Drain pipes.
To choose your motorhome rental you should check out the rental form shown here.
Try checking out the prices and types of Motorhomes
Rental periods are from Saturday to Saturday.
Try different configurations and get instant quotes to discover just how reasonable it is to rent a motor home.
Next, select the number of beds (berths). The higher number required, the larger the motor home.
Once you have completed the rental you will arrive at your pickup site and your motorhome will be ready for you and will have been cleaned, fueled, equipped as per your instructions and safety inspected before you take delivery.
Now it is time for you to hit the open road.
We have compiled information pages on each Canadian Province and Territory including travel times, National and Provincial Parks and campgrounds and interesting things you might want to see.
Visit all of the Canadian Provinces and Territories
Your motorhome rental BC will have plenty to learn about the exterior as well.
We believe the most important task to do BEFORE you leave either the dealership, or campground park is to check the tires, mirrors, chassis jacks, cables, hoses and lighting system including turn signals and brake lights. Do this every morning as these things are vital to hour health and safety.
A recent study indicated that a motorhome rental in BC would cost a family of six 25% to 60% less than other vacation travel arrangements.
You may want to do a motorhome rental in Calgary Alberta and drop it off in Vancouver.
Once you have had some experience with RV Camping you may find it most cost effective to rent each year.
Quite often folks nearing retirement age will decide to purchase a new or late model used motor home for extended winter vacations in the south, or to spend the summers touring Canada. They will be well advised to do a motor home rental first to discover what it is like to drive and live in one for a period of time.
While you have time before you leave on your trip, take some time to check out the vast array of RV camping supplies. It's mind boggling to see what busy minds have created. RV camping doesn't mean you need to rough it.

RV Travel with Kids Camping Adventures in North America
We can all save money when planning our next vacation. Make sure you check out Money Saving Travel Tips at Top Travel Tips before you book your vacation. They can save you some of your hard-earned cash.


Return from Motorhome rental to Whistler Outdoors