Whistler Tourism is what Whistler Village thrives on, and lives for.


Whistler tourism is a huge business. Well over two million visitors come to play, see and relax in this magnificent setting.
So what will you want to know before you arrange your vacation?
Whistler is called a village but in reality it is a small city. It has all of the banks, hospitals, health care facilities, churches and schools you will find in any modern city.
Add in 100 restaurants, 200 shops, 6,700 hotel rooms, police, schools, museums, conference centres and stir in two million visitors and you have Whistler tourism at its best.
Whistler Wellness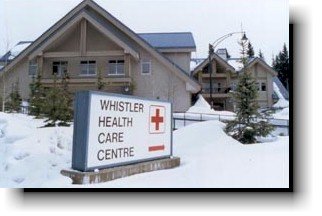 The Whistler Health Care Centre provides a comprehensive list of health care services including:
All medical problems and emergency care any time of day or night. Whistler tourism.
Out patient services. Medical clinics for minor health problems. Acute orthopedic minor injuries. Accidents do happen in the great outdoors while enjoying whistler tourism.
Here are three of the walk in clinics.
Whistler Medical Clinic 201 - 4380 Lorimer Road 1.604.932.3977
Town Plaza Medical Clinic 40 - 4314 Main Street 1.604.905.7089
Northlands Medical Clinic 101 - 4359 Main Street 1.604.932.8362
There are also plenty of doctors, dentists, chiropractors, physiotherapists, massage therapists, and acupuncturists with offices throughout Whistler.
What you need to know before you arrive in Vancouver. Canada customs, currency, taxes, transportation.
Visitors should note. Canada has a comprehensive Health care system. Generally, any Canadian will obtain without charge, hospital and medical care free. Each province issues health care cards that must be shown when the person requires medical services.
Out of country visitors will be expected to pay for health care services either in cash, credit card, or travel insurance.
Visitors should carry Travel Insurance covering medical, theft or loss of goods for yourself and family. Although Whistler is a very safe place to visit, you should be prepared. Accidents can happen.
Police
The royal Canadian Mounted Police (RCMP) are responsible for policing Whistler. The RCMP office is located in the public safety building (fire hall). Non-emergency: 1-604-932-3044 Emergency: 911
Meadow Park Sports Centre.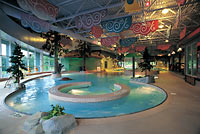 Meadow Park is a beautiful full scale sports facility adding to Whistler tourism enjoyment.
It has a fitness gym, weight room, ice skating rink, squash courts, and fitness classes.
Swimming facility includes a 25 meter, 6 lane pool with sauna and hot tub. It also has an ape swing, a water slide and a basketball net.
There's a child's pool with water playgrounds and a small outdoor water park.
The skating rink has an NHL sized surface and is open year round. Skates and helmets are available for rent.
Location
You can travel to Meadow Park by way of the Alpine Meadows or Emerald Estates bus routes. The buses stop at the front door. Meadow Park is also accessible via the Valley Trail if you are biking or walking in the summer. Free parking, a baseball diamond, great picnic tables, BBQs, and a small children's water-park area located behind the building.
Whistler tourism continually gets better.
Everything is open from 6 am until 10 pm. The children's pool is open from 8.30 am until 9 pm.
8107 Camino Drive Whistler, BC V0N 1B8 1-604-935-PLAY
All of the major banks have branches in Whistler.
US Dollars are accepted everywhere.
What to wear
Whistler has a relaxed, laid back atmosphere. Ties are not required in even the fancy restaurants.
You must remember you are in the coast Mountain Range and the weather may change in a hurry. Here are a few tips on what to wear.
Dress in layers when you are active.
Wear a shell with a hood to hold the heat in when needed.
Warm fleece hats and gloves in the fall winter and spring.
Tee shirts and shorts for summer as it can get quite warm.
Pullover sweater for the campfire times.
Of course there are a great variety of shops with beautiful clothing standing by in case you forgot something.
There are day care centres for visitors with children.
Teddy Bear Daycare
Located in the Millennium Place in whistler Village, the daycare service is open to both the residents and visitors of Whistler. Whistler tourism benefits as children 30 months to school age, may be dropped off between the hours of 7 am to 7 pm while you shop or whatever turns your fancy. Phone 1-604-935-8415
The Nanny Network
The Nanny Network operates seven days a week. There is no need be in your accommodation as they are able to take the children out for a walk, ski or any activity that interests you. Phone 1-604-938-2823
Whistler Kids Program
This program is fantastic for kids. The best learning school for kids on Whistler Blackcomb mountain. Click here to go to the Whistler Kids Program
What you need to know before you arrive in Vancouver. Canada customs, currency, taxes, transportation.
Pets
Whistler is a pet friendly resort, however your pet must be on a leash while outside. They are not allowed on a beach or public place like the hospital or recreation centre.
A little note of warning. It's not a good idea for your pet to be out at night alone or off the leash. Out there may be predators who my mistake little FIFI as a nice light snack.
The nanny Network. Whistler Animals galore, and Whistler Dog's Paw and Mountain Hound Lounge all have animal sitting and walking services.
Water
Whistler tourism is happy to report that the water supply of Whistler is perfectly fit to drink and meets or exceeds the Canadian drinking water Standards. In fact the water is quite sweet to drink right from the tap.
Please note. When traveling on foot in the backcountry (Click here to view our favorite hiking areas) it is best to take either bottled water, iodine tablets, or a water purifier as mountain water may be contaminated from animal activity.
The legal drinking age in British Columbia is 19 years old. Nightclubs close at 2 AM. Bars, pubs and lounges close at 1 AM. A person must be 19 years of age or older to purchase cigarettes.
There is no smoking in any public building in British Columbia including restaurants and bars.
Whistler village is pedestrian only, meaning once you park your car you never need it again. The area is safe for strollers, children and pets on leashes. You are never far from restrooms.
Take the free shuttle from the Marketplace to the Upper village daily.
Transit System
The valley transit system called the Whistler and Valley Express runs on convenient routes throughout the area.
Parking
Day lot parking is free all year long. It's only a two minute walk to the whistler Blackcomb lifts.
Marketplace and Village North parking is free for two hours.
Under the Telus whistler conference centre you may park free for three hours.
No overnight parking is allowed in the day lots. >b
Whistler valley trail
The whistler valley trail is a boon to whistler tourism activities. It runs for 30 km (18 miles) linking parks and activity centres. It's nice and wide and paved. Visitors may rent mountain bikes to tour this amazingly beautiful trail system. A scenic view on every turn.
First Nations History of Whistler
The Coast Salish first nations people have inhabited the land for many thousands of years. They lived a nomadic lifestyle, fishing and hunting long before the Europeans arrived.
The Whistler Modern History
The modern history of what is now known as Whistler goes back to 1877 when the trail from Pemberton to the west coast was completed.
Babysitting Whistler is a childcare and nanny agency that provides safe fun active care while babysitting. Our Whistler nannies combine care for your children with all the great children's activities Whistler Blackcomb has to offer. Our nannies and baby sitters come to your whistler accommodation to entertain your children both daycare and in the evening. We accept all whistler kids and their families from newborn to 14 years of age. Babysitting Whistler is the No1 choice for childcare from Whistlers largest hotels, The Four Seasons, The Fairmont Chateau, The Westin resort and Spa and the Pan Pacific Hotels .
Return from Whistler tourism to Whistler Outdoors