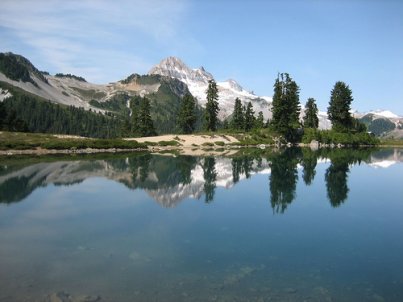 Whistler hiking trail guide to beautiful Whistler Outdoors
The Whistler hiking corridor is one of the worlds most scenic hiking and recreational areas.
This guide takes in the geographical territory from Squamish an hour south of Whistler, to Lillooet two hours north.
The corridor highway is number 99 and is named Sea to sky Highway. It is a very good, paved road.
A word of warning.
The highway is well maintained year round, but the stretch from Mount Currie (immediately north of Pemberton) to Lillooet is quite remote, mountainous, steeply graded, and subject to avalanches.
Avalanche gates are in place past Duffy Lake and near Lillooet. When avalanche danger is evident the gates will be closed requiring a turn around.
Timely information for you. Be sure to check these pages out.
What to know before buy hiking gear.
Backpack and Gear -  One person's Backpack experiences in heavenly places and the gear used. How will you benefit? By having better health, an uplifted spirit and lots of great fun!
After leaving Mount Currie the road climbs for a few kilometers finally leveling out past Joffre lake Recreation area. After you pass Duffy Lake the road follows the swiftly flowing Coyoosh creek. After a few crossings it goes through a few steep climbs before entering Lillooet.
My wife, Irma, and I started out walking 3 to 4 miles every evening after working all day. I had recently stopped smoking. Once the evening meal was out of the way we would head out.
After we moved to Vancouver we hiked every weekend. Sometimes we would backpack it to one of the Whistler hiking areas, camping overnight, and finding our way to one after another breathtaking scenes.
Backpacker Magazine is a fantastic source of information for anyone who wants to seriously hike the great outdoors.
Heaven begins a beautiful walk away.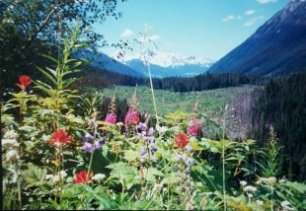 Eventually we bought a travel trailer and toured all over British Columbia mainly camping in Provincial Parks and Provincial forestry sites. We enjoyed many a weekend and holiday in this fantastic theatre.
Provincial Park Campsite
We love the Whistler hiking trails. Hike a short distance off the beaten track and you will see scenes like this.
Blowdown Pass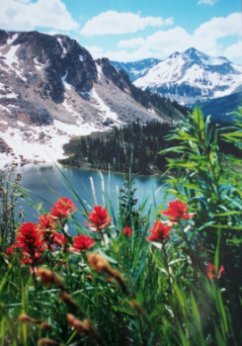 Whistler weather is not normally subject to extreme, fast changes. In the summer the temperature on a very hot day can reach 30C but it normally is very pleasant. The elevation at whistler village is 650 meters (1960 feet). It is a little cooler than Vancouver.
In winter Village temperature can go as low as -15C . Of course, at the higher elevations it may be quite a bit cooler.
Please feel free to check out the many trails and have a great time whistler hiking.
HIKING TIPS
Visitors to the Whistler Corridor may have many different ideas about hiking or walking the many trails to be found. The health benefits of walking are directly related to calories burned walking. Walking for health interests some while walking for weight loss or walking the dog or walking in the air of the corridor may be of interest to others. There is such a diversity of trails from wide open spaces where you may feel free while walking the dog to private out of the way areas for those who are into nude hiking. Put on your hiking shoes and hiking pants, grab your hiking stick or walking canes and head off to the trails. Whistler hiking trails are waiting for you.
Our favorite Whistler hiking trail in all of the Whistler corridor is Blowdown Pass. Mainly due to the fairly easy access to the Pass and the unending variety of the scenery as you go from the fireweed covered valley, through beautiful forest areas, and emerge above the tree line. All in little over an hour walk. Great campsite. Easy access to mountaintop views and more hiking possibilities than you can imagine.
We have described only one of our many trips to Blowdown, as well as these great walking and hiking trails within minutes of your whistler accommodations. Enjoy the photos as well.
For a walk that will blow your mind be sure to visit Stanley Park in the core of Vancouver.
Stawamus Chief Mountain is a heart thumping climb/hike.
Blowdown Pass. A great day hike or a week or more. It's fantastic.
Joffre Lake. A tough 4 hour hike to a beautiful glacier and emerald green lakes.
Crater Rim Trail. Walk in an ancient volcanic crater.
Shadow Lake Trail. Only a few minutes from Whistler.
Cheakamus Lake Trail. Scenic walk to a beautiful lake.
Brandywine Falls. Gorgeous waterfall, lakes and river easy hike.
Elfin Lakes. One of the worlds most beautiful hiking areas.
Garibaldi Lake. Wonderful hike to breathtaking beauty.
Wedgemount Lake. This hike will get your heart thumping.
Black Tusk. Five smashing hikes for backpackers.
Brohm Lake Trail. You will feel your heart thumping on this one.
Shadow Lake is one of the most beautiful trails in BC.
Singing Pass, moments from your Whistler accommodation. It's beautiful.
Other Short Walking Breaks Walking Travel Tours Trekking and Hiking Travel For You. Other Short Walking Breaks Walking Travel Tours Trekking and Hiking Travel For You
Short walking breaks and walking travel tours all abilities with trekking and hiking designed around you.
First aid kit. Play safe. Be sure you pack this very important item.
The Ideal Hiking Equipment Guide
The hiking equipment guides on this site cover all you need to know to select what is right for you. Including hiking clothing, waterproofs, footwear, rucksacks and trekking poles. There are lots of tips & techniques on navigation, fitness, vacations and using poles.

Return from Whistler Hiking to whistler Outdoors