Favorite Hiking trails into spectacular Blowdown Pass in Beautiful Columbia

Favorite Hiking trails are sometimes hard to select. The Whistler corridor has so many great ones to explore.
A little over an hour and a half drive from Whistler there lies the makings of a fantastic backpacking adventure into Blowdown Pass. I say backpacking because even though the hike to the pass can quite readily be done in a day it would be a shame to not stay a night or more to enjoy the beauty the area has to offer. Hiking in BC just gets better.
I don't know why it's called Blowdown but would be accurate it's due to the high winds being directed and funneled through the pass from time to time. The pass is a way to cross over the mountain into the Stein Valley a huge valley parkland descending eastward for miles toward the Fraser River. The area is known to hikers who use it to branch off to many other great hikes but for this time we will describe and visit Blowdown. this is one of our favorite hiking trails.
Leave Whistler and take highway 99 north to Pemberton. Turn right at Pemberton and travel through Mount Currie. Turn right across from the church onto the Duffy Lake road. Follow the paved road and you will drive along the Lillooet Lake on your right. The road turns left up the mountain and you follow through the winding highway. Soon you will pass Joffre Lake Recreational Area, one of our favorite hiking trails, on your right. Continue on for a way and soon the view opens up to reveal a vast valley. The creeks you will cross originate from the huge hanging glacier which is very visible up to your right. Soon the beautiful, deep, cold waters of Duffy Lake glisten in the valley on your left. Pullouts allow for photo ops and the opportunity to see the lake in all it's glory. The view here of the glacier on Joffre Peak is spectacular.
The Jewel that is Duffy Lake
Drive on past the end of the lake for approximately 2km (1.2 miles) and you will see an open barrier on the right. Just past the barrier turn right onto a narrow gravel road. This is the road to Blowdown Pass. The barrier is for winter conditions when the avalanche conditions become dangerous along Duffy Lake.
Once avalanche conditions are past, good Samaritans will clear the road of fallen trees and debris carried down the mountain by avalanches. Drive on this road for 10km (6 miles). Please be careful to avoid rocks you may see on the road. You want to stay to the left all the way. Finally you will come to a mound of clay. Stop here. Park in such a way that others may have room as well. This is the starting point for those driving autos and 2 wheel drive trucks and vans. This is the trail we selected as one of our favorite hiking trails. Hiking trail maps are not available for the trail. Best to print this out and take it with you.
From the roadside on the drive in.
It is possible for 4X4 vehicles to continue on however, be warned, this road is an old mining road leading into the Stein valley. It is not maintained and spring washouts are possible as well as fallen trees, rocks and landslides. No vehicles is why we class this as one of our favorite hiking trails.
From here the road begins an uphill climb with twists and turns through hardwood forests for about an hour along our favorite hiking trails. Eventually you will notice the trees get smaller and the space more open. You are reaching the tree line where trees cease to grow due to the harsher weather and thinner atmosphere at this altitude. Finally, on a left turn in the trail you will notice an off road trail going straight ahead. Take that trail. It's not sign posted because this area is not a parkland. If you miss this little trail don't worry. Just continue along the road and after about 20 minutes you will see the lake down below you. The decent is steep. Hiking backpacking trails can be tough sometimes.
Soon you will see ahead to the right a huge rock faced mountain with a pristine lake at it's base. This part of the hike takes about 20 minutes. Finally you arrive at the lake. The camping is where you see it. A nice flat, grassy area presents itself on the lakeside for your tent. Click here for our suggestions for choosing a tent . There are a few fire pits available. The toilet is the great outdoors but be discreet and move well back in the trees.
The Lake from high above.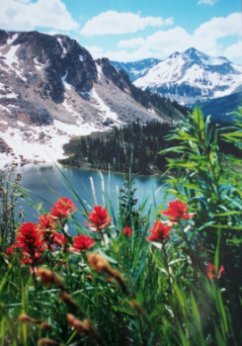 The road you see to the pass will take you up and over. The view from the pass is beautiful with the tree filled valley stretching our before you to the horizon. Go right at the top to the top of the mountain for another view. You have just discovered why we class Blowdown at the top of our favorite hiking trails. This entire area is mind blowing. The wild flowers you see everywhere are natures garden. Deer, bears, rabbits and especially marmots call this paradise home. This valley you see from the pass is huge and has been protected by the government for future generations. It can be a three to five day hike from end to end. Perhaps for a future backpacking trip?? The lake here is pristine, and the water is icy and tasty. The water is very drinkable but be certain to use iodine tablets or a purifier before you drink it, as you should before you drink any water in the great outdoors. The lake has a good supply of fish.
From the top of Blowdown Mountain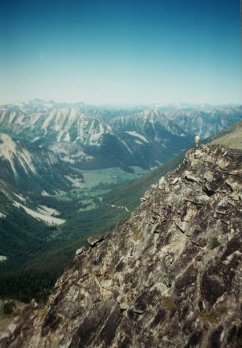 Stand at the top of the pass and to your left is Gott Mountain 2650 m (8400 feet). Find your way up there experience a thrilling ridge hike along the spine. Our favorite hiking trails go slightly right and up and you will look over into Cottonwood creek well below you. Notice a rock avalanche down there as well. Is it any wonder that this view is among our favorite hiking trails
Once, while here we went down the road a little and cut right over to a small creek we could see from the pass. We wanted to make a cup of tea. While waiting for the water to boil we were getting a kick out of the many marmots we could see and hear as they fed on the green shoots popping up after lying dormant all winter.
Suddenly a roar that sounded exactly like a fighter jet resounded past us. We didn't know what it was but quickly realized it was a golden eagle and it had a marmot in sight for its next meal. It landed behind a clump of trees apparently grabbed a marmot with its talons. The screaming was amazing. I ran the 200 feet or so to the edge of the growth but as I reached the trees the eagle dropped the meal and flew away. No sign of the marmot existed, however the ground was pockmarked with den holes. That was one lucky little marmot.
Fact. The whistle the marmot emits is their method of communicating. Certain whistles spell danger or enemy and all the marmots dive for safety to their dens. That whistle is where Whistler got it's name. Isn't hiking in BC fantastic.
Creating Memories. Blowdown Pass campfire.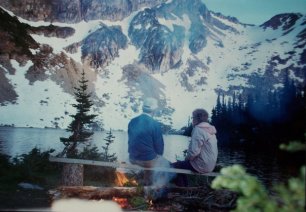 One evening Irma and I were sitting around after dinner when I spotted a deer approaching from the other side of the creek. Our favorite trails converge on this little creek from all directions. We were camping in the open in the grassy area alone. I quickly grabbed my camera and positioned myself near the trail that crossed the creek thinking the deer would possibly not notice our tent, campfire, or ourselves. How silly of me. The doe came to me, crossed the bridge and walked right past me as if I was a tree. It totally ignored me. Apparently this area is never hunted as it would be snowbound during the hunting season. The deer (at least this one) are not afraid of man.
For the next half hour we had ourselves a real house pet. We couldn't believe it. It fed on the rich green grasses, nibbled on everything that grew and hardly wandered any more than 75 feet of our camp at any time. It was such a beautiful moment we will carry it to our graves.
Our house/camp pet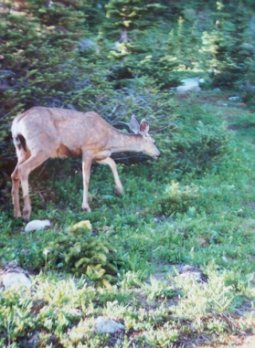 Firewood is a little scarce at Blowdown but head over to the woods and lots of old dried out blown down trees are to be found.
Be sure to clean up the camp before you leave as this is not a supervised camp. This way everyone who comes to this little part of heaven will list it among their favorite hiking trails as well.
Our wish is that you enjoy all of the trails within the Whistler corridor, as we did. Now you know why Blowdown Pass is number one on the list of our favorite hiking trails.
Check here to view more wonderful Whistler Day Trips
Joffre Lake. A tough 4 hour hike to a beautiful glacier and emerald green lakes.
Crater Rim Trail. Walk in an ancient volcanic crater.
Shadow Lake Trail. Only a few minutes from Whistler.
Cheakamus Lake Trail. Scenic walk to a beautiful lake.
Brandywine Falls. Gorgeous waterfall, lakes and river easy hike.
Whistler Hiking Guide. Explore the many fabulous hiking trails on your doorstep.
Elfin Lakes. One of the worlds most beautiful hiking areas.
Garibaldi Lake. Wonderful hike to breathtaking beauty.
Black Tusk. Five smashing hikes for backpackers.
Brohm Lake Forest Interpretive Forest. More wonderful hikes near whistler.
Return from Favorite Hiking trails to Whistler Outdoors