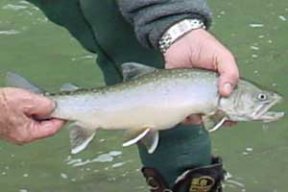 Fishing in Whistler! You must be kidding.
"We are here to add what we can to, not what we can get from, life."
-
Sir William Osler
What do you mean? Fishing in Whistler. I thought all they did was ski there.
Well, not exactly. You see, even though skiing and snowboarding and all of the winter sports attract over one million winter enthusiasts to Whistler each year, the summer season arrival brings more tourists to the area than winter.
They come to golf , swim,mountain bike , hike, camp, canoe, kayak raft,, and yes FISH.
Some of the finest fishing on the west coast may be found in the rivers and lakes easily accessible from the village. The rivers and lakes bristle with dolly vardon, rainbow, cutthroat and char. Five varieties of salmon inhabit the waters.
On the left, Chinook and on the right Chum Salmon

If you are the type of fisherman who wants to get away from it all, you may want to take a charter flight on a float plane or helicopter to pristine lakes just a few minutes by air to lakes and rivers teeming with fish.
In the fall, salmon return from the ocean, where they have lived since going back to the sea as little babies, return to spawn and die in the same area they too were born. Completing the life cycle of their destiny.
On the left Coho salmon. On the right Cutthroat trout

Fly Fishing Reels. Learn how they evolved.
Fly Fishing Rods.How they are made. What's the difference.
For plenty of good tips and hints be sure to check out BC Sportfishing
---
Char fishing is very good in winter and of course, rainbow fishing is productive year round. Lots of opportunity for all different types of game fish.
If you prefer you may fish for trout in the lakes moments from your condo. Rent a canoe and push off in Alta lake. The cold waters are home to a good population of fish. The lake is restocked yearly.
Spruce lake is inaccessible by car. There are no roads in to it. Here is a report that will get your mouth watering.
According to Phil Goyette who is the head guide of valley Fishing guides Limited in Whistler, the fishing in Whistler at Spruce Lake went this way on a recent trip.
The bright yellow float plane took off and flew for half an hour through spectacular mountain scenery where they saw bear and bighorn sheep, glaciers and snowcapped peaks. The plane landed on the jewel like lake and taxied to a small wharf on the shore where a small rowboat was available.
Rowing a very short distance to a known drop off where the trout hang out, he made a couple of casts. Immediately he was playing a nice rainbow. More followed and he released fish after fish averaging 14 inches.
His fishing fly tackle box contains larger than life flies. His theory is that if you open a pizza box and there is one piece larger than the rest, which piece will you pick?
The lakes and rivers for fishing in whistler have healthy populations of wild rainbow trout. Be it winter, spring, fall or summer, you are able to find fish to catch. In the heat of mid summer you can go to the higher elevations. In winter rivers are waiting.
If you are going fishing by your self you should take along waders and float tube to get out to where the fish are waiting.
If you plan on using the services of Valley fishing you will be pleased to note that all you will need to take along is your clothing as everything is supplied including a gourmet lunch if your trip is over the noon hour.
All of the fish in the rivers are wild. Some lakes are stocked in the Whistler area and catches of 24" cutthroats have been taken. In the local lakes such as Alta rainbow run from 8-14." In the fly in lakes the they run from 14" to 18" but there are a great many of them.
Fishing in whistler for char is amazing as they average 18" and may go up to 30" with weight up to 30 pounds.


Return from Fishing in Whistler to Whistler Outdoors