Whistler Outdoors is about us and our loving family.
It's hard to believe that after almost fifty years we are writing a page about us and our family.
What can we say? How do we put fifty years into perspective so that you may understand something about us?
Let's begin by showing you a photo. A wedding photo of Joe and Irma Macmillan on our wedding day April 7, 1958.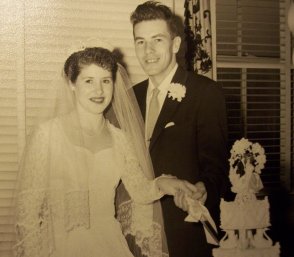 This is how we met.
I was serving in a minesweeper in the Royal Canadian Navy. One of my buddies was seeing a young lady in Halifax, NS. Problem was, she had a sister sharing a one-room flat.
My buddy began a campaign to get me involved to even things up. After a week or two of coaxing I agreed to a date. I was no more interested in getting involved than the man in the moon.
The reason being, the kind of girls we sailors meet were not the type you want to take home to meet the folks. I didn't need problems.
The very moment I met Irma I was hooked. She was beautiful. She had been raised in the French part of New Brunswick on a farm. She had eleven brothers and sisters.
Strangely, I thought back to a night on HMCS Haida, a destroyer I was serving on in the previous year. We were at sea. Every naval ship is manned 24 hours per day. At night, those on duty rotate every hour and the group on watch always have a few hands for standby. You must be out on deck, but can sit around and talk.
This particular night one of the old salts was holding the floor. The subject was "what kind of girl will make the best wife?".
The consensus ended with three stipulations. She must be French, she must live on a farm, and she must be from a large family.
I didn't remember this on our first date. I was totally taken with Irma. We talked until midnight. On the way back to our ship, my buddy was anxious to hear what I thought. I told him, "Irma is the girl I am going to marry."
The next night, we dated again and then our ship sailed for three months' duty in the Caribbean. I prayed that we would meet again and we did. A year later we were married and after almost fifty years, I believe we are more in love with each other now, than we ever were.
Like the universe, love has a way of expanding. It starts with a big bang. Things get in the way, but love carries on growing, exponentially. The amazing fact about love is, the more you give, the more you get back.
We have been blessed with four beautiful daughters. What a delight they were then, and still are of course. Each had their own personality, even then. What really is amazing to see is how early we develop our own traits of character at so young an age. Traits that stay with us and fine tune as we age. Life is not about us then. It is about family.

Our family has grown over the years. Sons-in-law. Grandchildren. Our pride and joy. The girls have grown with the same love for life, and their fellow human beings, that is apparent within Irma. What a wonderful asset to have.
April 2008 was our 50th Wedding Anniversary. It hasn't been easy, but it has always been a pleasure to have had the opportunity to have spent it as one.
We have traveled through the years encompassing every province and one territory of Canada, and a flock of states. Whistler has been a fantastic experience. Sheep Mountain in the Yukon Territory was WOW! The Grand Canyon - Mind-blowing! We've had a ball.
Irma has never complained. Glaucoma led to a cornea transplant. Poor hearing led to hearing aids and finally profound deafness. Hopefully a cochlear implant will let her hear again. She has handled these afflictions with a toughness I will never understand.
Through it all she has cooked, cleaned, walked, hiked, skied, golfed, and swam with a pace most mortals would love to do, but cannot.
Everything we have done over the years, we have done together. This web site is about US. Our family.
We hope you will give us some insight through our Contact Us page. We would love to hear from you!
Would you like to build your own web site and make money? Here is our Solo Build It! Review. This is NOT a Get Rich Scheme but a step-by-step process to making your online income grow.

From our family to yours, we thank you for taking the time to visit About Us, and please do come back again.
We are actively adding new articles to keep you fully informed about Whistler Outdoors.


Return from About us to Whistler Outdoors