Stanley Park. Serenely beautiful. Awesome.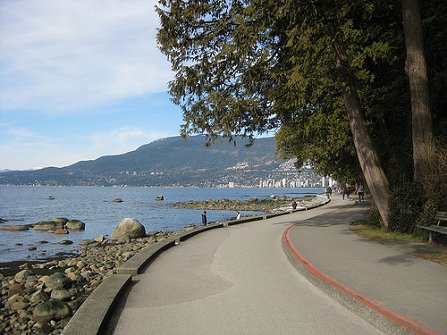 "It's not necessarily the amount of time you spend at practice that counts; it's what you put into the practice."
Eric Lindros
Vancouver's Stanley Park is an 800 acre oasis situated in the heart of the city core. A short stroll from your downtown hotel, you may take a leisurely stroll or a 10 km hike along the seawall walkway where you might get up close and personal with curious harbor seals.
For the photographer the opportunities are endless for photos of waterfowl, raccoons, coyotes, eagles and deer.
This beauty is an old park and is quite unique as it borders on the very busy city of Vancouver. See the city up close and personal as you
walk Vancouver
How close is it?
We lived in a hi-rise apartment building literally across the street from the park. Our neighborhood consisted of shopping areas, hotels, restaurants. A coyote lived in our hedge. Every afternoon at around 4 pm this beautiful animal would emerge from its resting place, take a few stretches, and head for the park for something to eat.
On one end of the park under the Lions Gate Bridge is Coal Harbor with it's amazing marina. An arch called Lumberman's Arch dedicated to those hard working folks who worked in the forestry industry lies a short walk ahead. From here you walk along the seawall where you will be treated to a view of harbor seals. These are curious marine animals. They are cute people watchers.
English Bay is a beautiful body of water surrounding Stanley Park and leads from the open ocean through the bay and into Burrard Inlet. This is a very busy port. You will probably see some large ships anchored in the bay. They need to wait for hours or days for their cargos of wheat or other mixed goods destined for the important ports of the world. During the cruise season you will be sure to view one or more of the huge cruise ships as they come and go to the ports of Alaska and south to the USA and Mexico. Early morning and late evening is the best time to see them.
Cruise Ship at Canada Place, Vancouver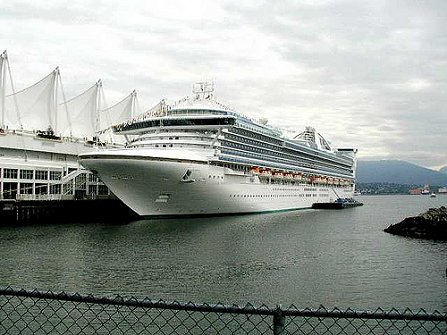 As you round the park heading west you will notice a great many sail boats as they sail into and out of the very busy waters of False Creek where huge marinas are filled with very expensive boats of every description. Years ago this area on either side of the water was heavy industrial where there were huge foundries producing ships anchors, cables, steel wire rope, train wheels and parts etc. Not as a pretty site as it is today.
Now the market at Granville Island is a tourist mecca where you may watch glass blowers creating beautiful pieces of art or tour the Emily Carr School of Art.
Glass Blower at work at Granville Island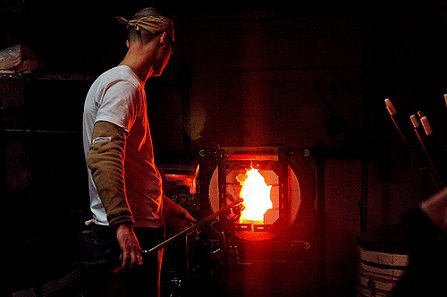 As you approach the end of the walk along the ocean you will see a large children's wading pool. It's a very busy site in summer. Just past this site the trail forks. To the left you will return to Coal Harbor for the completion of your Stanley Park walk, and to the right the trail can be followed along False Creek down to the Science Centre. You may also board one of the quaint people ferries that ply the waters taking people to either side of the Creek.
Cross to the Granville Island Market for some of the best food to be found anywhere.
Pigeon Forge Gatlinburg.
Come meet, and get to know a beautiful family of east Tennessee residents.
Philippine Boracay Island
Comprehensive travel guide to Boracay - the Beach Capital of the Philippines. With lots of tips, photos, stories and insider information.
Penang Vacations
Your Exotic Vacations to Asias Finest Travel Destination.Discover Great Hotels, Tourist Attractions, Sunny Beaches, Mysterious Temple, and more.
Lake Placid.
Visit the beautiful Olympic Village of Lake Placid in the heart of the Adirondack Mountains of New York State.
Russia Ukraine Travel Alternative.
Get your Russia travel info from the source. Consult independent Russian guides and interpreters from over 60 cities throughout Russia, Ukraine and the former Soviet Union.
Return From Stanley Park to Whistler Outdoors