Whistler snowboarding. Over 200 challenging pipes and runs to Challenge your every skill.


Whistler snowboarding. Recently rated by Tran World Snowboarding magazine as the worlds greatest snowboarding facility, and why not!
Consider these facts……
More than 200 fantastic runs.
Short lift lines. 34 lifts waiting for you.
Over 3300 hectares (8100 acres) of challenging and lengthily cruisers and a mix of gentle rollers
High alpine bowls and glades over two incredible mountains.
And only moments from your Whistler Accommodations.
Learn the best snowboarding tips we have to offer. find out why winning is for those with heart.
Women's snowboarding is catching on fast. Here is the reason why.
---
As close as 150 yards from the lifts in fact when you choose the Mountainside Lodge in Whistler. Come back every year with timeshare resales to enjoy the unbeatable skiing and snowboarding. Be sure to pack everything you need for an unforgettable stay. Afraid you'll forget something? From ski poles to snowboards you can buy or rent new ones right in town.
Before you spend a ton of money on new equipment you should check out our page on buying your new snowboarding gear. we can save you some grief.
---
Snowboard Boots. Where top quality is an absolute must.
Visit us from late in November and snowboard until early June.
Board the Blackcomb Glacier until the end of July. The new Symphony Express High speed Chair Lift now gives you access to over 400 ha (1000 acres) of intermediate to diamond boarding with a challenging vertical drop of 500m (1600 feet).Previously this area was a hike in/out access.
Be sure to learn the snowboarding basics.
Take a look at the amazing Parks
Let's face it. The main reason snowboarders come to whistler is the tremendous variety of parks to test every skill level from novice to expert. Whistler snowboarding is fantastic.
The Big Easy is on Blackcomb. A wide open non-intimidating slope of almost 1 km (3300 feet) perfect for the beginners and youngsters to test their ability and skills. It features rails, rollers and mini-hits. Whistler snowboarding just gets better.
Whistlers Habitat Terrain Park. features three separate runs with all kinds of features to try your abilities. Test you skills on the Whistler Pipe, and impressive 90 m (300 ft) pipe with walls up to 4m (13 ft). Perfect test for the intermediate and advanced boarder.
Whistler has fantastic backcountry snowboarding areas to die for.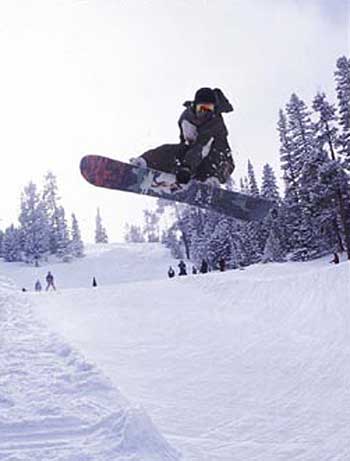 ---
Snowboard Helmets will keep you coming back for more.
---
Nintendo Gamecube Terrain Park on Blackcomb mountain provides an opportunity to test your skills. Practice jumping, spines and step-up jumps as well as smaller features and jibs.
The Right Snowboard Stance. Do it the proper way and have a great day.
Freestyle Board Tricks. Ten spectacular tricks for you to try to master.
Learn how to execute the perfect Barrel Roll.
Choosing a snowboard is very important. You don't always need those fancy, expensive graphics.
The Nintendo game cube Terrain Park-Highest Level on Blackcomb is for expert skiers and boarders only. The run is over 520 m (1700 ft) and the vertical drop is 150 m (490 ft). technical table tops, jibs, rails and spines will put you to the test. This is where the pros come to hone their skills.
Have you come up with a new board trick? Got an easier way to nail an old one? Want your own page like this one.. Check out our snowboard school where you are the teacher.
Snow Cross Track is a permanent race course featuring turns, step up turns and banked turns. Plenty of room for four boarders to race each other. Excellent for intermediate and expert boarders.
When the sun goes down there's no reason to stop for the day. Hit Blackcomb's Magic chair Thursday through Saturday evenings. The lighted green circle run allows access to Night Moves Park where you try the mini rainbow rail, C and Jib boxes and pyramids. Your ticket gives you access to Blackcomb's Night super Pipe
Once the winter ends, the fun moves over to Whistler snowboarding Spring Park, with features such as expert table tops to keep you on your boots.
When Whistler closes, the snowboarders and skiers move back to Blackcomb for summer glacier skiing and riding. Summer Terrain Parkup there at the top of the glacier Express chair features rails, hits and a super Pipe.
Click here to check out Xcountry Skiing at Whistler
Mountain Facts
Whistler and Blackcomb combined has North America's largest ski area at over 3,300 ha (8,150 acres)
Over 200 runs
34 Lifts, 3 Gondolas, 13 High speed Quads, 5 triple chairs, 1 double chair and 13 T-bars Whistler snowboarding really is The Worlds Best
Five Snowboard Parks, 2 super pipes and 1 half pipe.
Average annual snowfall over 9.13 m (30 feet)
Visit Tentgo.com for All Year UK Camping,Hiking,Backpacking and Everything Outdoors
Click A Photo For Details And Prices From Sun and Ski Sports
Look Great. Feel Great With Gear From Sun and Ski Sports
Look Your Best With gear From Sun and Ski Sports
Click A Photo For Details And Prices From Sun and Ski Sports
Click A Photo For Details And Prices From Sun and Ski Sports
Return from Whistler Snowboarding to Whistler Outdoors