Snowboard boots. Quality = Enjoyment.
"True friendship comes when silence between two people is comfortable."
David Tyson Gentry
Snowboard boots are the most important part of your snowboarding package. If your feet are not comfortable, your whole body is uncomfortable.
As you know, snowboarding can be an expensive sport. Most resorts have good deals on lift tickets, but you will put out serious $$$$ to spend a day on the slopes and pipes. You're not going to be happy if your feet are sore or cold or your boots are weak in the joints and you need to pack it in by noon.
Watch the action on this Whistler Snowboarding video. Try to count the turns old Santa makes in only "1 1/2" minutes on the board. Your boots need to fit and work properly, all day.


"Don't wait for people to be friendly, show them how."
Learn how to execute the perfect Barrel Roll.
Nitro Team Tls Snowboard Boots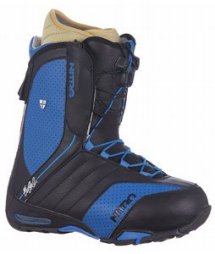 The Nitro Team TLS Snowboard Boots are designed to fit the specific needs of our team. It is a supportive boot that's comfortable enough to ride and keep you from tiring and kike in all day. Also the boot is versatile enough to flex with the rider, but still give a solid heel hold. The NitroTeam boot is available with the
TLS lacing system or standard lacing.
The tech 2 ultra light thermacell liner is fully lasted and heat moldable for the perfect fit for your foot.
SFX ATR: This sole has a molded rubber bottom, new molded EVA mid-sole and air bag in the heel for exceptional shock absorption and vibration dampening. The system is designed to keep you feet and legs from tiring even after hours of fun.
TLS Lacing: Introduced last season the TLS lacing system is the smoothest and easiest way to get in and out of your boots and to customized the exact tightness of your lower and upper shell. It is as easy as one, two, three. Pull, pull and store, it's done. With our new locking mechanism that was developed after the locking harnesses in rock climbing never again will you have to tighten your boots mid run.
EVA Molded Shell Tongue: A pre molded shell tongue for instant comfort and it, also adds support and control.
Liner: Tech 2 Ultra-light Thermacell is an air cell weave using only long 27-32 micron fine perendale fleece wool, grown only on New Zealand sheep. The fine strand fibers are loosely spun creating a lightweight and highly effective insulation for the cold climate.
Click A Photo For Details And Prices From Sun and Ski Sports
Look Great. Feel Great With Gear From Sun and Ski Sports
Look Your Best With gear From Sun and Ski Sports
Click A Photo For Details And Prices From Sun and Ski Sports
Click A Photo For Details And Prices From Sun and Ski Sports
Return from Snowboard Boots to Whistler Outdoors