The Mountain Biking Guide to Whistler Mountain Park
No mountain biking guide would be useful without a little basic information.
A good many years ago, when we were in our early teens there was one choice in bicycles. Boys or girls. Then in around 1950 or so the baloon tire was introduced. They were a welcome innovation because the bicycles didn't have shocks and hit hard.
We are all familiar with the difference between a regular ten speed bicycle and a mountain bike. Just in case you may not, here are the two.
The Mountain Bike on the left. Ten speed on the right.

We used to call the one on the right a ten speed. Now both types are actually available in up to 21 speed or gears. The driver may select combinations of different gears to allow the bike to faster or to climb steep hills.
For a multitude of great information be sure to read this Mountain Bike Magazine.
There are different categories of bikes.
Touring bikes are for comfort on the long distances.
Sport bikes are more of a Hybrid between a road bike and sport bike. They may be used off road on groomed trails.
Racing bikes are built for great speeds. Very lightweight, thin tires, and 18 speeds allow the bike to hit the top speed quickly.
Folding bikes are great for use in parks and where shorter distances are demanded.
Exercise bikes are for use in fitness rooms for aerobic workouts. They are stationary.
Kids bikes range from tri-cycles with training wheels to the smaller version of the size mommy and daddy bikes.
Recumbent Bike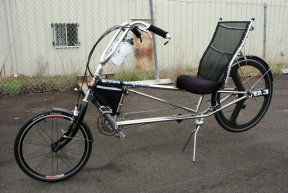 Recumbent bikes are easier and more comfortable to ride as they allow you to use the back muscles for power.
Mountain bikes are for use off road. Ruggedly built, wide tires with big grips help to keep the bike on the trail.
Mountain bikes are the reason why Whistler Blackcomb built their "top of the heap" Mountain Biking Park.
The Bike Park is Huge.
The vertical drop is over 1200 meters (4,800 feet).
Over 200 km (120 miles) of heart thumping, on the edge, descending trails serviced by lift service.
The park has something for every level. Take gentle banked drives through the forest. Twist and turn through single track for intermediate drivers. For the extremes its with full body armor there are steep rock faces, root strewn lines, drop off cuts and plenty more.
This mountain biking guide explains the three skills centers, each designated for a different ability level.
Green is for riders who want to keep down low to start. Good to practice clearing obstacles and to ride planks.
Rider near Lost Lake

Blue zone raises the bar as the elements get a little more difficult and tighten up.
Double Black us for expert riders only, including a wild display of North-Shore tough ones.
Bikercross course. Go as fast or as slow as you are able. This course has huge banked corners, table tops, doubles, rhythm sections. Riders say it's the nearest thing to flying on two wheels.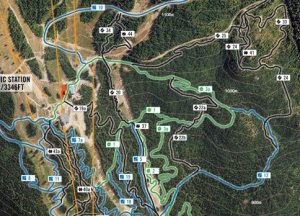 Here is a small section of the course map. You can download the complete map here. Whistler Mountain Bike Park Map
Go Mountain Biking in BC!: