BC camping guide for the Exciting Whistler Corridor of Beautiful British Columbia.
Welcome to the BC camping information site for the Whistler corridor.
First, let's take a look at what we mean as the Whistler corridor.
The corridor stretches from Squamish,(Stawamus Park) less than an hour from Vancouver, through Whistler, Pemberton, Mount Currie, Lillooet, to Lytton and Cache Creek. Arguably the most beautiful 250 km (150 miles) of camping opportunities in the world.
Within the corridor you may park a quarter million dollar class A motorhome in a gorgeous park like Alice Lake, or pitch a tent next to a glacier at Joffre Lakes. You can take a shower with nice hot water at Birkenhead Park or refresh yourself in the ice cold water of Duffy Lake.
Check out the camping equipment list by clicking here.
Did you ever wonder what it costs to rent a truck camper or a motor home for your vacation?
You will be surprised to see how little it costs.
Check for Motorhome Rental Rates Here
"The choices are many and varied. A camping heaven on earth."
There are three private campgrounds in Squamish. Dryden Creek, Eagle Ridge and Paradise Valley. They offer full service hook ups and the rates run from $30. and up.
Riverside RV resort and campground will be found in Whistler.
Camping Magazine is a great site to obtain the latest news on camping.
Nestled in quiet little valleys lie nice areas for nude camping and naked camping where those who wish to do so may have the privacy they may want. BC camping is the best.
We have compiled this page of camping tips you will find handy. Be sure to check them out.
Each year a growing number of friends who are interested in gay camping gather near Whistler to enjoy the outdoors life.
Red Heather is a great little camping area for hikers.
BC Hydro have three campgrounds in the Lillooet to Gold Bridge corridor. These are free campgrounds and contrary to what you may think, they are very good.
BC Parks have some very nice campgrounds along the corridor. BC camping doesn't get any better.
Alice Lake is a popular place and a very busy one as well. It is located 13km (8 miles) past Squamish on the right.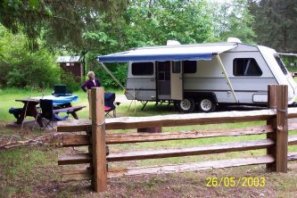 Nairn Falls is a half hour drive past Whistler on the right. Nice big trees, roomy sites, and with a 20 minute walk to the amazing falls it rates very highly as one of the best areas to camp.
Camping games are a wonderful way to pass away the hours with the family in your BC camping area.
Motorcycle camping opportunities are everywhere in the Whistler corridor.
Birkenhead is located 17 km (10.5 miles) West of D'Arcy off Highway 99. On a scenic lake.
Campsite at Duffy Lake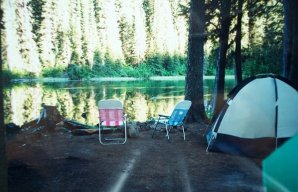 Trout fishing at Duffy Lake is excellent.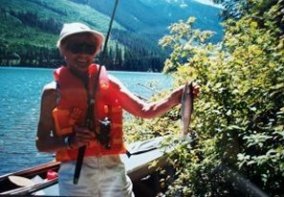 There are about 5 sites here. Further along towards Lillooet you will find a few more. These are called BC forestry sites. Most are free. If you like the sound of rushing water to lull you to sleep, this is it. Coyooshe Creek is very fast flowing as the water bounds along through the ever narrowing valley adding excitement during your BC camping experience.
The Whistler corridor offers such a variety of fantastic camping opportunities as you can camp year round. A four season tent is required for cold weather camping and a down sleeping bag is a must. You may want to use a double sleeping bag to keep you warm. If your aluminum ten poles ever break you should consider fiberglass replacement ten poles as they are lighter and hold up well. Pop up tent trailers and pop up tent campers are good but in winter you must carry portable generators unless you carry dry firewood as you may want to keep a 24 hour campfire going. You also need to beef up your campfire cooking recipes as you burn more calories in the cold.
RV camping supplies are available all along the corridor. If you are interested in checking out used camping trailers you whould inquire at some of the dealers in the Langley area. Camping beds, camping air mattresses and camping tent equipment are available at Mountain Equipment Co-op and Walmart stores.
After a very scenic, twisting drive through very interesting mountains, you arrive at Lillooet. Watch for the BC Hydro campground sign on your right. If you are able to find a sight it's yours free. Maximum stay is 14 nights. Water and pit toilets are supplied and the caretakers keep the place very clean. There is even fire wood free for your use.
Two more Hydro campgrounds are located at Carpenter Lake on the road to gold Bridge.
Skihist Provincial Campground 6km (3.5 miles) north of Lytton Provincial Campground is not exactly in the corridor but offers the best BC Camping along the number 5 highway between Cache Creek and Hope. If you turn left onto the number 5 highway at Lytton and drive just a few minutes you will see it on the right. This campground has a host, good washrooms, dumping station, big lots and a nice location for an evening stroll across the highway and a fantastic view of the Fraser river and the trains that negotiate the curves and tunnels of the CPR main line.
You can view other related pages by clicking on to these highlighted features of BC camping.
Camp in a tent and really get to know the great outdoors. This site offers great advice for every potential camper.
First aid kit. Play safe. Be sure you pack this very important item.
Camping essentials Five important ones you must have and do for a successful trip.
Camping breakfast. Come on Dad. Be the hero. You'll never regret it.
How to build a good campfire is a very necessary skill. go here to find out how we do it.
Better still create some Campfire Magic with these helpful tips and have the whole gang going oohh and aahh.
Duffy Lake camping is nothing short of fantastic.
Tents of all kinds.
Your Sleeping Bag is the most important item you have. Make your own.
National Parks Guide
Your personal guide to all US National Parks. See National Parks photos, Find great hiking trails, get reviews on parks, and get great deals on travel.
Travel trailer RV camping at it's finest.
Red Heather campsite for hikers. Check it out.
Camp in a tent and really get to know the great outdoors. This site offers great advice for every potential camper.
Camping Field Guide: The ultimate camping guide for your next outdoor adventure. From camping tips and survival techniques to scouting crafts, here's all the information you need for a great campout!

"I don't care what is written about me as long as it isn't true."
Katherine Hepburn



Return from BC Camping to Whistler Outdoors