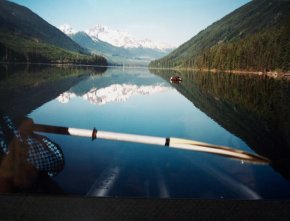 Duffy Lake, a jewel you don't want to miss.
Duffy lake is that sapphire blue lake you may drive by as you travel between Whistler and Lillooet, but if you are smart you will take the time to stop and enjoy this most beautiful little gemstone set amid the majestic mountains.
To reach the lake you will head north on highway 99 from Whistler. In less than half an hour you will pass through Pemberton and soon Mount Currie first nations reserve. Just past the church you will turn right on the Duffy Lake road. Soon the highway turns away from Lillooet Lake and begins a few switchbacks as the road climbs upwards for a few kilometers. You will pass Joffre Lake Recreation area on your right.
Soon you will enter a beautiful valley which opens out to reveal Duffy Lake on your left. The lake itself is very deep and as you drive along the lakeside you will soon see Matier glacier which up to now has been behind you sitting up there cheek to cheek with Joffre Mountain.
Duffy lake has two very small camping areas. If you are tenting you might find a small, hidden area about halfway down the lakeside. You need to watch for the little roadway from an area high above the lake. A creek crosses under the highway. We couldn't even find a sign our last time there. We actually found it while in our kayak doing a little fishing. The mouth of the creek was quite active with trout. We pulled in to find a nice little campsite. Someone must have had a 4X4 camper and navigated the steep trail to reach the spot. We walked up the trail a little ways and it would be perfectly suitable for someone to drive along the trail and park about one hundred feet above the lake if driving a car or van. From there you could carry your tent and gear down.
At the north end of the lake is an old BC Forestry site with a few campsites, tables and an outdoor toilet. Lake access here is easy for kayaks and canoes. Cayoosh Creek begins it's boisterous run to the Fraser river at Lillooet here where the many old logs lie dormant at the end of the lake.
Another area we found suitable for camping was at the south end of the lake. There is a Department of Highways Maintenance compound located near the creek that crosses the highway south of the lake. You want to avoid trespassing on their property but there are other areas that would be suitable for camping.
North of Duffy lake a short distance there are many good campsites near Cayoosh Creek. If you don't mind being lulled to sleep by rushing water, this will be the ideal place to stop. Unless you are at the designated camping sites you will not have the luxury of pit toilets.
If you are lucky enough to be on Duffy in a canoe or kayak when the wind is dead calm you are in for the thrill of a lifetime. Paddle along and bask in the beauty of the Matier glacier reflecting in the mirror like waters. There is nothing like the beauty of it anywhere else. Fishing is good, especially off the creeks where they enter the lake.


Return from Duffy Lake to Whistler Outdoors