Patagonia Clothing. None Better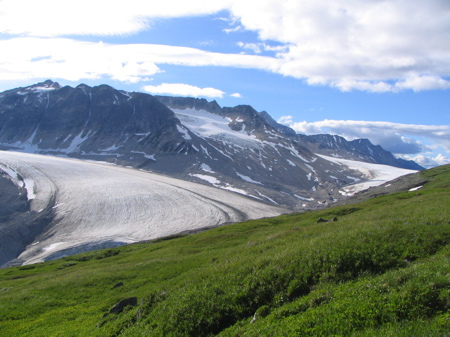 Samuel Glacier. Yukon territory
Patagonia clothing is one of the best clothing lines ever made. But did you know that the secret of staying warm is to dress in layers.
Did you ever have a piece of clothing that simply refused to wear out? Irma and I did.

It was back in the early eighties. We were tired of buying jackets that would not do what they said they would do. We finally decided to bite the bullet and invest in all weather Patagonia jackets with hoods. They were made of Gore Tex. They were warm. They were water tight. They refused to wear out.
We wore them hiking, backpacking, camping and they would not wear out. They were wonderful in the rain. We hiked to Samuel Glacier ( that is it above ) in Canada's Yukon Territory. It poured rain during the three hour hike. It was my birthday August 15th. While cooking supper the rain changed to snow. Yuuukkk. My pants were soaking wet as they were not Gore Tex, but my jacket stayed mostly dry. I say mostly because Gore Tex is almost waterproof. But the breath-ability of the Patagonia under-layer wicks away moisture.
We used the jackets for 16 years. They still looked good but we finally replaced them for new ones simply because the new ones were so new looking.
That is why Irma and I happily endorse Patagonia clothing.
It is fantastic.
Without question the name Patagonia indicates top quality with a line of outdoors clothing and gear that has been tested time and again and proven to be of timely design and amazing wear-ability.
Each of us who have equipped ourselves with Patagonia clothing over the last several years may envy the alpinist who heads for the mountains for the first time in Spring 2006. Every technical piece now is lighter, more supple, and provides a more athletic fit than garments made only a few seasons ago: most offer superior moisture-shedding performance and greater breathability as well.
Patagonia Women's Guide Jacket
Sharp granite, sticky verglas, untracked lines – enjoy them all in our newest all-around soft shell. Extremely durable, stretchy and breathable, the 4-way-stretch double-weave polyester allows for an excellent fit while resisting wind, water and snow. A chamois lining on the collar, chin guard and wind flap complements the soft, brushed interior for next-to-skin comfort. Water-resistant zippers, three external pockets, articulated arms, a drawcord hem and supple, die-cut cuff tabs round out the details. Recyclable through the Common Threads Recycling Program.
7.6-oz 70-denier 92% polyester (47% recycled) doubleweave with 4-way stretch, 8% spandex with a Deluge® DWR (durable water repellent)
Recyclable through the Common Threads Recycling Program
The evolution that began with Patagonia clothing soft shells has advanced from fabric innovation to the extraordinary new construction techniques embodied by their Composite Seam System technology. This season, they have expanded their ultra light CSS hard-shell offerings for warmer - and not always drier - climbing weather with the Jetstream Jacket (in the Alpine line).
Save at Altrec Outdoors on Camping and Hiking Equipment
In Endurance: Airius-Ts now come in a new BIOMAP version that seamlessly adjusts construction and density: you get what is needed where you need it. This also is the first spring season for the variable-density Regulator R15 BIOMPA Pullover and Jacket, which bridge the gap between base layer and insulation, while reducing bulk and boosting breathability.
The first-time alpinist, as well as the grizzled veteran, can look to us for more than clothes for an enlightened mountain experience come spring.

Patagonia clothing new technical packs (Endurance, Gritty, Catalyst, Houdini) come in a light but uncompromisingly durable double weave Shift Layer nylon whose floating top layer absorbs friction and protects the diffentially cut bottom layer from abrasion. Each pack affords superb load-bearing balance and intuitive, hassle-free performance.
The packs will stand up to the roughest treatment and the many designs will insure you will find one best suited to your particular taste.
Use Paypal at Altrec Outdoors
Every feature is worth inspection, from the non-slosh and hidden-strap water-reservoir Auto compression System to the whistle built into the sternum strap.
These new technical packs are part of a larger launch of innovative new backpacks and luggage that include ingenious new wheelies and duffels in a beefier Shift Layer fabric, as well as fanatically lightweight travel packs (in featherweight triple rip stop nylon) that stuff into their own pockets, and new Lightwire mobile-office backpacks for the computer-toting, but hooky-playing professional who likes to steal away while on a business trip for a few timeless swakums of outdoor adventure.
Save at Altrec Outdoors on Camping and Hiking Equipment
Also notable for spring, though not at all new: Patagonia clothing strong commitment to Altrec.com, as evidenced by their selective distribution and the strength of their efforts to educate consumers on the environmental and design issues they care about most.
Return from Patagonia Clothing to Whistler Outdoors