Trip Planner. What You Will Need When You Arrive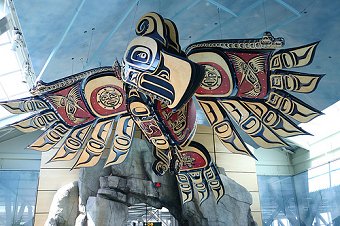 "A mediocre idea that generates enthusiasm will go farther than a great idea that inspires no one."
Mary Kay Ash
This trip planner is to inform you as to what you will expect during your journey to Whistler, BC
Top photo is a beautiful native wood carving, one of many at the Vancouver International Airport.
A little over 40 years ago Whistler was home to very few people. Just a place in the mountains where only a raggedy trail found its way to this beautiful area.
Today two million visitors come to this very modern village that has become the number one tourist area in North America. They come from every continent to ski, snowboard, heli ski, snowshoe, cross country ski, snowmobile and enjoy the 30 feet of fantastic snow that covers the mountains in winter.
They also come in summer to enjoy the fantastic golf courses, hiking trails, camping and Rving, as well as river rafting, kayaking, fishing, trail riding, jet boating and glider soaring.
If you have time, why not order the fact filled trip planner travel guide Supernatural British Columbia from the website www.hellobc.com Or call toll free from anywhere in North America 1-800-435-5622.
Visitors to Canada must carry a valid Passport. This law has been passed in 2008 with no exceptions.
Visitors arriving in Canada from the USA by road will do so at border crossing stations across the country.
TRIP PLANNER FOR AIR TRAVELERS
Visitors coming to Canada by air will be required to go through customs at the city of arrival. If you fly directly to Vancouver International Airport you will clear customs in the International Terminal. Once through the Canada Customs Passport control, you and your luggage will check through customs where there may be security delays.
To take children into Canada you must have proof of legal guardianship and passports.
If you are traveling without your parents and under 18 years of age you must have a valid passport and a letter signed by your parents or guardian giving their permission to travel to Canada. You will also need proof of sufficient funds as well as evidence of your return transportation.
A couple of trip planner hints you should know about.
When you are arriving in Canada you should carry a detailed list of items in your luggage including the serial numbers. This list should be shown to customs to prove you didn't purchase them here.
If you are carrying $10,000. Or more in cash from the USA you must report it to customs.
USE COMMON SENSE
Customs is not the place to make jokes about explosives, knives or bombs. The mere mention of these items can lead to incarceration and serious trouble.
Canada has very strict laws governing fire arms. You should call 1-800-731-4000 to inquire before attempting to do so.
Prescription drugs may be brought in but you should carry proof of prescription to show to customs agents.
TRIP PLANNER CURRENCY INFORMATION
In most ways Canadian Currency is similar to USA currency. Canada Loonies are $1.00 coins and Tooneys are $2.00 coins. Large bills such as $50.00 and $100.00 are considered suspect by many merchants. They may be accepted but our advice is to change them at banks as soon as possible and use the smaller denominations.
The USA currency is accepted everywhere.
With the exception of chicken and milk, prices of groceries are basically the same as in the USA.
Be careful in purchasing books and magazines. Most have two prices. One in Canadian and one USA funds. Some dealers have not realized the Canadian dollar has been at par or even higher than the US dollar for a long time and will gouge you for the higher Canadian price if paying with Canadian currency. It's wise to ask first.
Change your money at a bank for the fairest exchange. If you are dealing with American currency the banks keep track of the daily rate of exchange whereas the retail establishments are under no obligation to do so and will set their own rate. Trip planner information you must know.
ATMs are located everywhere. Interact is accepted as well. Credit cards such as American Express, VISA, Mastercard, Diners Club and Barklays are all accepted.
TAXES
The provincial sales tax of 7% is charged on almost everything as is the federal GST of 5%. Liquor is charged at 10% by the province instead of 7%.
CURRENT WEATHER CONDITIONS
Here you can check current and recent photos, real time weather cams and lots more.
DUSTY THE WEATHER DOG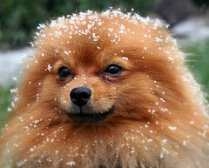 Dusty wants to show you weather conditions as they are now on the mountain. Web Cam, temperatures, ski conditions, avalanche control, weather forecast. Everything you need to know now, as it happens.
Just click on her cute little nose and see it all.
Highway conditions and road reports are here http://www.seatoskyimprovements.ca/.
For those traveling to Pemberton you may check current conditions here http://www.bchighway.com/report.
TRIP PLANNER TRANSPORTATION INFORMATION
All of the major car rental agencies have kiosks set up at the airport. Limousine and van service can be arranged. Bus service is a popular way to go. Whistler is easy to get around via local bus service so it makes sense to take the bus from the airport and use the local service while in town. Perimeter Whistler Express www.perimeterbus.com and Greyhound Bus Service www.greyhound.ca both offer hourly service from the Vancouver International Airport and offer pick up service from more than 20 Vancouver Hotels.
Feel free to link to our site. Copy this code into your site.
Return from Trip Planner to Whistler Outdoors