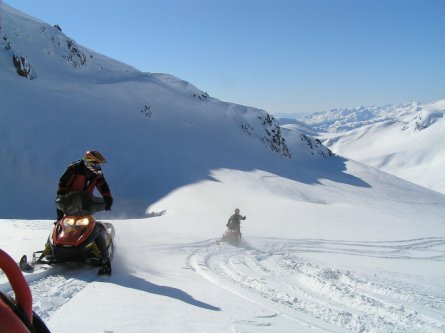 Mountain snowmobiling. Seeing is Believing!
"It is well to remember that the entire universe, with one trifling exception, is composed of others."
John Andrew Holmes
Mountain snowmobiling is great for the heart, mind and soul.
Contrary to what you may believe, snowmobiling is good exercise and a good workout for your heart. It looks so easy, as if the rider was just along for the drive, but the fun of maneuvering your machine up and over steep climbs, twisting and turning every which way, will have you panting for breath.
Good for the mind! You'll never forget what you have seen. Look deeply at these photos. Imagine yourself being right there. Snow covered mountains as far as the eye can see. Wide open blue sky. Nothing but you, your friends, your guide and miles of wide open snow upon which to lay your track.
Good for the soul. Yes, a mountain snowmobiling tour will give you a feeling of power. Not your power, but that of a greater one. The massive mountains, the vast expanse, the absolute solitude surrounding you after turning off your machine is unbelievable. Close your eyes. Feel it.
Visitors to Whistler and Pemberton get to use the world class ski facilities and see and play on over 8,000 acres of perfectly groomed trails, but there is a whole world of fantastic fun just beyond the Peak chair of Whistler Mountain and the Seventh Heaven area of Blackcomb Mountain. It's where the Snowmobilers go to play.
Snowmobile Helmets. A very important product to wear.
Irma and I were formerly from Cape Breton Island on the northern end of Nova Scotia. Our snowmobiling adventures generally consisted of narrow trails with plenty of small creek crossings. If we covered 5 or 6 miles in a day that was a good day. We did get to travel the open trails on the Highlands area occasionally (a huge tree farm used by the nearby Pulp Mill during the summer only). Up there we could open the throttle and cover some serious distance, but we didn't get there very often.
Snowmobiling Gallery of beautiful photos.
What we enjoyed most was getting together with friends, helping each other to cross those creeks and eating our lunches. The lunches were the best part really. We would stop in a sheltered area out of the wind. In a few minutes we would have the little backpacker stoves heating up the tea and soup. Everyone would share the goodies they took along with the group. We would call it "social snowmobiling" with emphasis on the social part.
Sometimes we would use the snowmobiles to transport our ski and camping gear to a remote hut in the Highlands and use that as our base for cross country skiing.
Then There's Pemberton Snow Field
View this short video showing the fun you can have on the Pemberton Snow field.


Mountain snowmobiling in the Whistler area is a whole new deal. First of all the area is massive. Unbelievably huge. Mountains rise up to over 8,000 feet. Glaciers can be 1,000 feet thick. Annual snowfall over 30 feet. And the beauty of it is, you have an amazing choice of areas to explore. You could snowmobile for an entire winter and never hit the same area twice.
You too can have a site like this one. It's easy and fun. Fire your boss. Work for yourself!
Snowmobile Apparel.Be the best looking most comfortable snowmobiler.
Mountain snowmobiling is such fun. You have the urge to tell anyone who will listen about your fantastic adventure.
There is a company in the Whistler area you really must contact as they have tons of experience, knowledge of the entire area, very experienced guides and a whole inventory of the latest and finest and most expensive ($11,500.) snowmobiles available to take you on the ride of a lifetime.
Totally Awesome Adventures were featured in an article in Canada's SnoWest Canada magazine by editor Lane Lindstrom. You really must read it. Be certain to check out the Galleries on their site as their photos are amazing.
DUSTY THE WEATHER DOG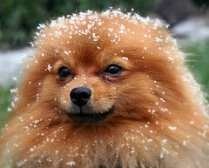 Dusty wants to show you weather conditions as they are now on the mountain. Web Cam, temperatures, ski conditions, avalanche control, weather forecast. Everything you need to know now, as it happens.
Just click on her cute little nose and see it all.
Snowmobile Museum Snowmobile Hall of Fame
Ski Doo. Unofficial history of the most famous snowmobile ever.