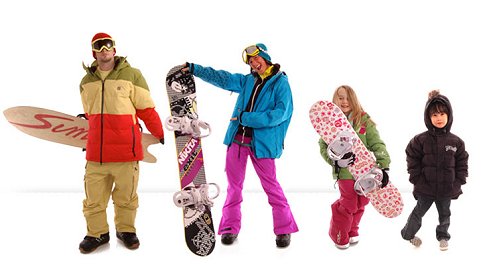 Choosing a Snowboard. Don't be hasty. Be thorough and reap the rewards.
"Never mind what others do; do better than yourself, beat your own record from day to day, and you are a success."
William J. H. Boetcker


When choosing a snowboard you need to know what to look for?
Why does one brand work better than another?
Why do prices differ from one board shop than another?
Should I let price matter?
What if I buy and not like the board?
Unless you have money to burn your best bet is to find a shop that will rent you a board with the understanding that if you don't like it you can walk without obligation, but if you do like it then the shop will deduct the rental fee from the retail price.
Do not be in a hurray.
Rent a few different boards. Try to get the feel of each one. Make a real effort to resist buying and do not get caught up in the hype. Every board manufacturer will tell you their boards are better. That is human nature at work. Remember, graphics do not make the board better.
The one point you really must understand is this. Nearly every board is made the same way. The core is wood. It's covered on top with fiberglass and the bottom is plastic. That is all there is to it.
Sure, some manufacturers spend more time sanding, painting, designing and applying nice graphics. Some also spend a fortune on advertising material, but when it comes right down to it, one board is about the same as the next.
The most important factor in the equation is how does the board feel to you on the snow.
Choosing a snowboard means all of the above PLUS trying it out on the slopes. Experience the feel for yourself. Do not believe the advertising hype because most of it is a play on words. In the long run, you and you alone will decide what you want and feel.
When you enter a snowboard shop or an on-line shop the first thing you will notice will be the tremendous variety of boards available. Name brands such as Burton, Abbigliamento, DC, Dragon, Gnu, K2, Roxy, Salomon and dozens of others fill the walls. If you question the clerks and ask for their opinion of the different boards you will get the impression that they must spend all of their time testing every board out on the hills.
If truth be known, they will probably have one board they use personally. The rest of the information they will pick up from brochures and advertising material.
Choosing a snowboard is a matter of elimination.
By trying a board you will either like it or love it. Compare the stiffness of one against the other.
Do not skimp on the bindings.
You bought a great board but fitted it with a cheap binding. Big mistake. Advances in binding manufacturing have resulted in equipment that will last for years. Nothing will wipe you out like having that cheap binding give out, ruining a day of what should have been perfect boarding. Now it is back to the shop, buying the more expensive binding. Why not do it all once.
Buy the best you are able to afford.
Once you have purchased the board and those great bindings get out there and try it out. Be sure to check how the board and bindings are working together, sort of as a team would do. The employees at the shop are usually very helpful. Do not hesitate to return for binding tweaking.
So there it is. Choosing a snowboard need not be a tough task. Be aware of the pitfalls of paying too much for a fancy board. The cheap one will do just as good a job for you.
Place the dollars on the bindings and really enjoy your days on the trails.
Freestyle Board Tricks.
Ten spectacular tricks for you to try to master.
The Right Snowboard Stance. Do it the proper way and have a great day.
Click A Photo For Details And Prices From Sun and Ski Sports
Look Great. Feel Great With Gear From Sun and Ski Sports
Look Your Best With gear From Sun and Ski Sports
Click A Photo For Details And Prices From Sun and Ski Sports
Click A Photo For Details And Prices From Sun and Ski Sports
Return from Choosing a Snowboard to Whistler Outdoors