Back Country Snowboarding. Are You Ready For some Thrills?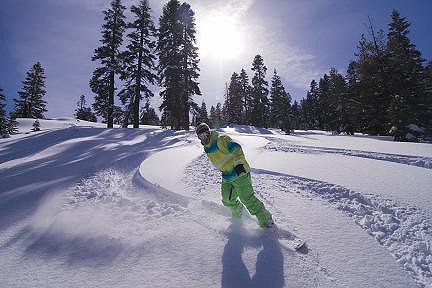 There is more to back country snowboarding than meets the eye.
For instance. You must get there. That means either a very expensive sno-cat ride or lift ticket or perhaps a snowmobile. Either way it might be costly.
If you are in good condition you may want to walk and that means at least a few miles if you are going by way of the ski slopes at a resort. This is why it is so important to carry out a work out routine and during the summer and fall.
There are a few advantages to this form of skiing:
you get to snowboard away from everyone except from your friends.
If you decide to walk, you do not need to pay a penny to get there.
You are free of the rules of the groomed slopes.
The snow may not have even one track.
However with this freedom comes responsibilities.
One of the most important is that snowboarding out of bounds may relate to grave consequences. If you do decide to go outside the ropes you may find yourself in trouble. Many ski resorts now have the right to charge you for the search involved in finding you if you get lost. Yet others have the right to fine you for just being out of bounds if you are caught.
One of the greatest dangers of snowboarding out of bounds is the avalanche. The resort probably has an avalanche control system in place. They either use a cannon or dynamite charges dropped from above dangerous cornices by helicopter to start the snow tumbling down. If you are in the path you are in deep trouble.
You also may be skiing in an area with deep snow wells surrounding trees. These holes have caused a large number of deaths from suffocation over the years and must be avoided. Do a header into one and it may be impossible to get out.
So these are the dangers. But what of the advantages?
Participating in any outdoor sport away from the maddening crowds is terrific fun. Apart from the fact you have the entire mountain as your playpen you can get to hone your snowboarding skills. You may want to try your skills in mountain rescue with your friends. You may never need them but there is no harm in trying them out.
The whole idea of practicing your back country snowboarding skills are for you to enjoy a great day out in the snow. Some boarders really get into it. A friend even has snowboarding wallpapers covering the walls of his room, snowboarding bags for his board as well as the history of snowboarding.
Click A Photo For Details And Prices From Sun and Ski Sports
Look Great. Feel Great With Gear From Sun and Ski Sports
Look Your Best With gear From Sun and Ski Sports
Click A Photo For Details And Prices From Sun and Ski Sports
Click A Photo For Details And Prices From Sun and Ski Sports
Return from Back country Snowboarding to Home
Return From Back Country Snowboarding to Whistler Snowboarding