Whistler hiking trails guide to Brandywine/CalCheak
"The person who makes a success of living is the one who see his goal steadily and aims for it unswervingly. That is dedication."
Cecil B. DeMille
Whistler hiking trails are wondrously varied. From short little strolls to a week of backpacking in the mountains. There are trails for every taste or desire. This one is a nice 3 hour hike, and it's not going to pull you away from shopping or golfing in Whistler for very long as it's nearby.
Brandywine falls Provincial Park is set up and maintained by the park's system people to mainly allow for access to view Brandywine Falls. As a wonderful bonus, there have been a couple of very nice trails extending from the park falls to CalCheak Forest Recreation site. This is a loop trail of 8km (5 miles). Whistler hiking trails.
What you will be walking upon will be a huge lava bed. This was laid down thousands of years ago when a volcano erupted in this area. Along the way you will notice basalt columns that were pushed up by the volcano and solidified into grotesque shapes.
Helmckum Falls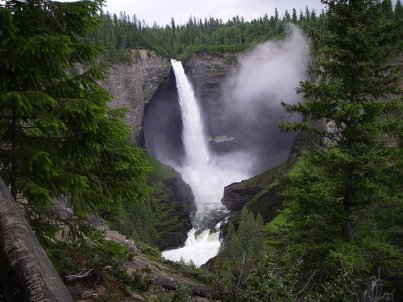 In fact the Brandywine falls show the effect that water, falling from a distance will, given enough time, cut through rock as it did here. This has happened in the interior of the province at Helmckem Falls as well.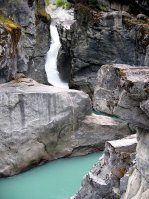 Nairn Falls are formed differently. Not through a lava bed but solid granite. These falls are a short distance from Whistler and smash their way through a very narrow channel. They are tough to photograph and look and feel much better when viewed up very close. To get to these falls, drive north from whistler 16 km (10 miles) and pull in when you reach Nairn Falls Recreation Area on the right. It's a beautiful 30 minute walk to the falls.
Brandywine falls hike.
One of the best outdoor adventures to do is whistler hiking trails like this one. From Whistler you will need to turn left onto the Sea to Sky highway number 99 and drive 13 km (8 miles) where on your left you will find the sign for Brandywine Provincial Park. Turn in here and park for whistler hiking trails.
The main trail crosses the Brandywine creek on the main falls trail. Just beyond the bridge you will see a track going uphill on the left. That's not where you want to go as that will take you to the cross country ski trail. It has a few interesting items to observe if you decide to go a little way on that trail. Not very far ahead you will come to Lava Lake and you will see some very interesting pieces of lava that look like cobblestones.
Learn how to use the amazing Whisperlite Stove.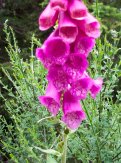 However, continue along and you will come to railroad tracks. Note the sign for Swim Lake and CalCheak trails. Cross the track and you will see the trail for another whistler hiking trail called Daisy Lake. That one goes off to the left. Shortly you will come to the falls. Note the strange lava rock formations and basalt rocks up to your left as you enjoy the walk.
After viewing Brandywine, turn back to the railroad and get to the sign for CalCheak. Walk a few paces and turn toward Swim Lake. Just before you reach the lake your trail will become obvious. The trail rises to a ridge where you are going to be viewing the lake. Here the leftovers from the volcanic action really becomes obvious with ridges of shattered columnar basalt popping up everywhere.
Aerobic exersises
are so very important if you want to really enjoy walking. It gets everything working as it should.
The trail leads through these columns and broken basalt is everywhere. Enjoy the beautiful forest canopy here especially if it is a hot day. Now and again you will see ponds of water on both sides of the whistler hiking trails. Soon you will come to the railroad track. Note the sign for McGuire. This is all that remains of a railroad station that existed here many years before.
Past the tracks and you are in the beautiful forested trail and soon the sound of the Cheakamus river as it bustles along its path. The next thing you are going to experience is crossing Callaghan Creek on the suspension bridge. just ahead is the forest recreation site. The site is accessible from highway 99 by driving 4km (2.5 miles) past the Brandywine Park entrance if you are coming from Squamish or, you may turn onto the old logging road 9km (5.5 miles) south of Whistler. Either way you do it be prepared to find lots of pot holes on this 1.5 km (1 mile) road into the site. These roads are not maintained.
The whistler hiking trails back to the parking lot is back along the same way you came. You may wish to take the cross country hiking trail back to the lot by going right and uphill at McGuire. The trail starts out barren but soon the trees will provide shade cover. The trail may be a little wet if the weather has been heavy. Generally it's pretty good.
Check here to view more wonderful Whistler Day Trips
For a walk that will blow your mind be sure to visit Stanley Park in the core of Vancouver.
Joffre Lake. A tough 4 hour hike to a beautiful glacier and emerald green lakes.
Blowdown Pass. A great day hike or a week or more. It's fantastic.
Crater Rim Trail. Walk in an ancient volcanic crater.
Shadow Lake Trail. Only a few minutes from Whistler.
Cheakamus Lake Trail. Scenic walk to a beautiful lake.
Whistler Hiking Guide. Explore the many fabulous hiking trails on your doorstep.
Elfin Lakes. One of the worlds most beautiful hiking areas.
High Falls Hiking Trail. This is one tough trail. Do it only if you are in good condition.
Garibaldi Lake. Wonderful hike to breathtaking beauty.
Black Tusk. Five smashing hikes for backpackers. Wedgemount Lake. This one will get your heat thumping.
Brohm Lake Trail. You will feel your heart thumping on this one. Brohm Lake Forest Interpretive Forest. More wonderful hikes near whistler.
Return from Whistler Hiking trails to Whistler Outdoors.