Joffre Lake. A wonderful hike to a beautiful Glacier.
A Joffre Lake hike during your visit to Whistler, is a must as it is not too far and can easily be done in 6 hours door to door. You may also want to hike to Blowdown Pass as well.
First I must say that this is not an easy hike. You must be capable of walking for approximately four hours over a fairly rough trail that climbs 1200 feet. The return distance traveled is 11 km. or 7 miles.
Now that I've prepared you with that warning, I should add that there are very scenic views along the way. Three lakes, a glacier and a mountain to observe. So you will want to stop here and there to take photographs and feed the Canada Jays, admire the emerald green of the water and fill your eyes with the glory of a close up view of the Matier glacier.
Matier Glacier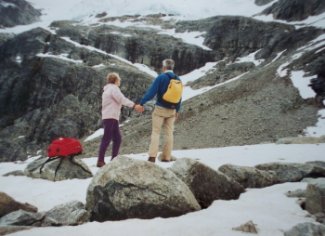 You should pack a good lunch. A few years ago Irma and I did hike the Joffre lake trail one Sunday and met up with a group of young folks who had carried their camping gear up to the upper lake. How they slept was a mystery to us as we couldn't find a level spot where a person could lie down on flat ground. Oh to be young again.
During our next visit we did find a few level spots to pitch a tent off on a trail to the left before you hit the lake. Final word, no matter if you view the glacier from your vehicle ( visible from the highway a short distance east of the parking lot) or you make the full hike. You will forever carry with you a soul filling memory of your Joffre lake hike.
Let's get started.
From your Whistler Accommodations turn east towards Pemberton on highway 99. At Pemberton turn right and drive through Mount Currie and turn right at the church onto the Duffy Lake road. Here take note of your odometer reading.
After leaving Lillooet Lake the road begins a steep climb and many zig zags along Joffre creek. At about 23 km. (14 miles) from Mount Currie the forest Service Recreation Area for Joffre Lakes appears on your right. This trip from Whistler should have taken you about one hour. Trail maps are available here. Ample parking as well. Good forestry camping sites are not far away from you.
Click here to view our camping equipment list.
Good hiking boots are requires here as the trail can be slippery and wet in some areas. Shortly after setting out you will meet up with the first lake. The name of the trail you want to follow is "Joffre Alpine trail" that takes you through the woods around the end of the lake.
Keep and eye out here as you get your first glance of the Mount Matier glacier and Joffre Peak itself.
From here the trail begins a gradual climb. It is a little treacherous as you are walking over roots and lots of rocks. Keep on this trail for about a half hour and you will soon come to a part of the trail with lots of loose rocks. Now you return to the creek and then another uphill climb. All the work is soon forgotten as the wild waters of Joffre creek pound their way downhill in a dash to the bottom. It takes about two hours to reach the absolutely, incredibly beautiful, pristine, emerald green, Middle Joffre Lake.
Whisky Jack feeding at Middle Joffre lake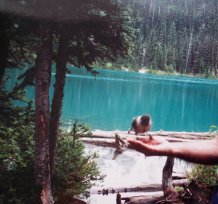 This lake will blow your mind. After seeing it for the first time you too will look for more words to describe it to your friends. The green is caused by the action of the glacier. The glacier is a frozen, moving river of ice. It's weight is in the millions of tons. As it very slowly moves along the ground, it's sheer weight grinds the stone into a very fine powder. Picked up by the melt water it flows along gradually finding itself suspended in the deep clear waters of the lakes. The total effect results in the beautiful emerald green water you are viewing.
The Whisky Jack (Canada jays) here certainly realize that people mean food and are very willing to feed from your hand. Time for photos.
From the end of the lake the trail takes you over some slippery log bridges where the creek water rushes under you. The trail goes into another steep climb and soon levels off taking you towards the Upper Joffre lake. Suddenly you emerge above the treeline, the spectacular scene with the lake and glacier above open to your view.
The trail follows the lake ending at the huge rock fall. Agile hikers may want to climb over the huge rocks and up to the base of the glacier. Keep in mind though, this is a glacier. A river of ice. It is moving ever so slightly. Huge chunks are known to break loose and come tumbling down at any time crushing anything in it's path. Be careful and alert.
The rocks to your right make a great resting spot for your picnic. On your return trip from Joffre lake and Matier glacier you will have a wonderful feeling of satisfaction as you're brain is full of beautiful memories to call upon during the rest of your lifetime. Check here to view more wonderful Whistler Day Trips
Blowdown Pass. A great day hike or a week or more. It's fantastic.
Crater Rim Trail. Walk in an ancient volcanic crater.
Shadow Lake Trail. Only a few minutes from Whistler.
Cheakamus Lake Trail. Scenic walk to a beautiful lake.
Brandywine Falls. Gorgeous waterfall, lakes and river easy hike.
Whistler Hiking Guide. Explore the many fabulous hiking trails on your doorstep.
Elfin Lakes. One of the worlds most beautiful hiking areas.
Black Tusk. Five smashing hikes for backpackers.
Brohm Lake Trail. You will feel your heart thumping on this one.
Brohm Lake Forest Interpretive Forest. More wonderful hikes near whistler.
Return from Joffre Lake to Whistler Outdoors