Hiking Tips. Five Reasons Not to Buy Discount Hiking Gear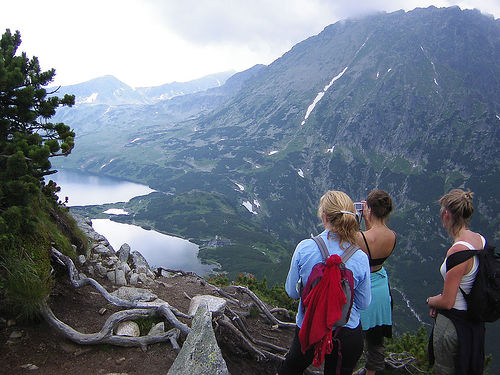 If you are a first timer, hiking tips from the right person can be invaluable for your long term enjoyment of a lifetime on the hiking trail.
Poor advice at the outset could have you undergo a very bad experience even on your first hike. We are certain you do not want to happen.
Here are a number of tips we wish we had heard prior to first outing.
Do not buy discounted hiking gear. You see the advertisements blaring at you to buy this or that at 75% off. Do not be tempted. The only time we would advise you to buy hiking gear at a discount would be if your favorite outdoor gear store is having a sale on regular priced merchandise.
Buy the best gear you can afford. This tip does not mean that you should buy the most expensive hiking boots or the most expensive hiking jacket. What we mean by this is you should do your research first based upon what hiking and camping equipment has proven to be best by your friends or online reviews by those who have done so. Sometimes the most expensive may just not live up to the price charged.
Do the research. There are thousands of online reviews on every conceivable piece of hiking and camping gear. Avoid the reviews by manufacturers.
Deal with a reputable outdoor equipment store with a knowledgeable staff. Again, ask your friends which one is best. This level of store will employ a staff who are also outdoor doers. No doubt they have had a chance to do their own testing and will have a wealth of first hand knowledge at their table.
Invest in a GPS unit. We put this item of hiking gear in here because it is an amazing piece of technology that will help you to get out of a tight situation. When we started hiking we used the map and compass system. This method was good but the first time you felt as if you were not certain which direction to proceed, doubt set in. You may think you should go in one direction but the compass shows you should be traveling in another. It really takes getting used to. There is no arguing with the GPS.
Hiking clothes are a vital part of your outdoor trips. A lightweight, waterproof pair of pants may be stuffed in a pack and take up little space. Get used to wearing a cap on your head. It will protect you from the sun but mostly it will keep you warm in winter and make sure it is waterproof to keep your head dry in the rain.
A warm pair of waterproof mitts or gloves may come in handy. Again these are lightweight and help to keep you protected from the elements.
Return from Hiking tips to Home
Return from Hiking Tips to BC Hiking