Travel Nova Scotia. Canada's Most Beautiful Province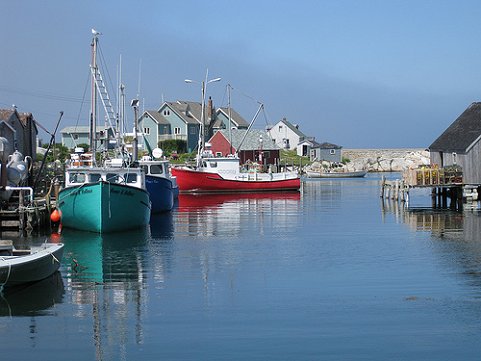 Travel Nova Scotia and you enter the countrie's most beautiful province. This province is a mini British Columbia. Only the size of Vancouver Island, it packs into it's borders all of the beauty of the west coast on a smaller scale.
The highest mountain peak lies within the Cape Breton Highlands at 1,700 feet. There are many lakes and rivers including the unmatched Margaree River also on Cape Breton Island.
The Annapolis Valley in the southwestern part of the province is noted for the delicious apples grown in the orchards.
The exciting cities of Halifax and Dartmouth bustle with the business that evolves from the location of one of the worlds largest protected deep water harbors, with it's container piers shipping and receiving goods from and to all corners of the planet.
Nova Scotia enjoys a relatively mild climate, thanks to the Gulf Stream ocean current which keeps the extremes of cold at bay unlike the provinces lying to the west. This effect does result in a little more dampness at times as well as some amazing snowfall amounts, especially in the Margaree valley winters.
What to watch for while you travel Nova Scotia
Confine the above assets onto an area 500 miles long and 40 miles wide,
throw in thousands of instances of "drop dead" views and spectacular sunsets,
challenging, spectacular, golf courses, sailing on the Bras D'or Lakes,
salmon fishing, sitting to a feed of lobster or crabs freshly caught from the surrounding sea,
strolling the exciting harbor front areas of such towns as Lunenburg, Mahone Bay, Cheticamp, Baddeck, and the cities of Halifax, Dartmouth and Sydney where cheap, plastic touristy items are kept at bay and in their place you will find works of art, home made jams, hand hooked quilts, pottery and glass, not only created on site but lovingly described to you by their creators
Riding on a genuine fishing boat while huge whales welcome you with a slap or their astounding flukes
Nova Scotia's greatest asset is it's people. Travel Nova Scotia and you will soon agree. Friendly, willing to help, and take the time to do so. Industrious, yet they know how to relax and enjoy the good life they have created.
If there is one word you must keep in mind while you travel Nova Scotia it is "relax". Even while you travel the province you will notice the urge to speed abates, as the bucolic atmosphere of the highways and byways soon enters your heart and you find yourself gazing at a farmer as he works the hay fields or watch a lobster fisher skillfully maneuver a boat only a few feet from rocks to pull traps hopefully laden with the chefs delicacy.
Check for Motorhome Rental Rates Here
Visit any town or village and folks will greet you as if you have been neighbors for years. Even in the cities where you may not expect it, you will experience the friendliness. If you let it happen, it will.
National Parks
Kejimkujik National Park is the only inland National Park in the Maritime Provinces. Located in the south western part of the province in Annapolis County it is a wonderful destination for camping with 400 camp and RV sites. Home to a great many lakes and streams it is a fisherman's paradise.
Cape Breton Highlands National Park is the jewel among the gems. Located on the Cabot trail, this park is a must see whenever you travel Nova Scotia.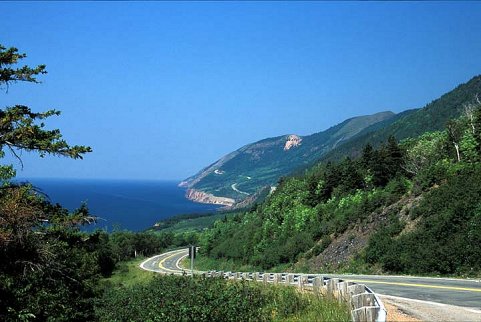 The Cabot trail is a 180 mile highway around the northern part of the island. Although the highway is a first class paved road, it may cause some "less aggressive" visitors a few flutters of the heart as some of the mountainous terrain and "meet yourself coming back" turns will get your attention, however, the highway is very safe so put the worries aside and enjoy your trip.
Every turn in this park is another treat for sore eyes. There are so many photo opportunities you must, for safety sake, pull over in the designated areas and enjoy.
A Camping Shangri-La
Every one of the 8 campgrounds in this park is worth a visit. Each is unique with sandy beaches, cool mountain streams, hiking trails, interpretation centers and playgrounds. The staff is first rate.
The Green Cove beach is a rock beach. Not a grain of sand, however if you want to really see nature at work, stop here and go visit.
This is a natural rock tumbler. The red granite rocks lie on a fairly steep angle to the ocean. Each wave breaks upon the rocks and causes them to tumble back and forth, so much so they are hammered (listen carefully and you will hear it happening) into round and oval shapes. This is a perfect spot for a lunch on a warm day where you will be entertained by the waves breaking upon the coast.
Hike into Fishing Cove and spend a few nights in this picturesque valley at the ocean. It is a 5 mile downhill hike where you will enjoy wilderness campsites and a clear creek as well as a view of the fishing boats as they go back and forth just off the cove. Pick some delicious wild blueberries, mix them into your pancake batter and feast like royalty. The steeper, but shorter, trail back is not so tough but whichever trail you decide to return you will have memories to last 10 lifetimes.
Highlands Golf Links
Rated as the # 1 golf course in Canada for many years, this golf course is gorgeous but don't let it fool you. This course is tough. There is a 283 yard par 4 that sounds easy but we defy you to par it.
This is an old course set into a valley with 1200 foot mountains on either side, ocean inlets cutting into lush fairways and the most beautiful Clyburn River dissecting the 18 challenging holes. It is a beautiful 7 mile walk around this course so you may want to take a cart, but if you are up to it, take the walk and you will remember it forever.
Every corner you turn as you travel Nova Scotia is a visitors delight. There are places such as Fortress Louisbourg on Cape Breton Island where this amazing restoration was rebuilt by trades people who were ex coal miners and Cape Breton craftsmen.
The building techniques were so authentic, all of the furniture, wooden beams, closets and yes, even the rifle stocks for the guns were not only reproduced without modern tools, but without sandpaper to smoothe the surfaces.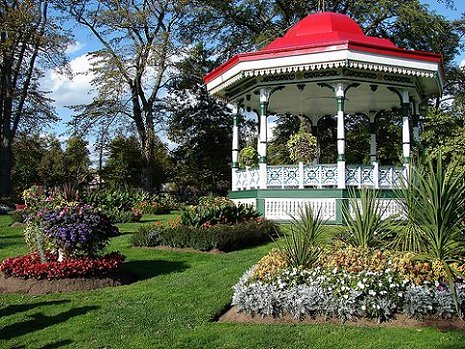 The Beauty of The Halifax Public Gardens
Other Features You Do Not Want to Miss
Peggys Cove near Halifax

The Ovens at Hubbards

The 185 foot deep Canso Causeway joining Cape Breton Island to the Mainland

Graham Ball Museum at Baddeck

The Tidal Bore along the Bay of Fundy

Grand Pre Acadian National Heritage Park

Halifax Public Gardens
The beauty of Victoria Park in Truro
Miners Museum in Springhill
Travel Nova Scotia and you will want to return as quickly as possible to this jewel of Canada.
Return from Travel Nova Scotia to Home
Return from Travel Nova Scotia to Motorhome Rental