Travel Ontario. From Wilderness to Cosmopolitan.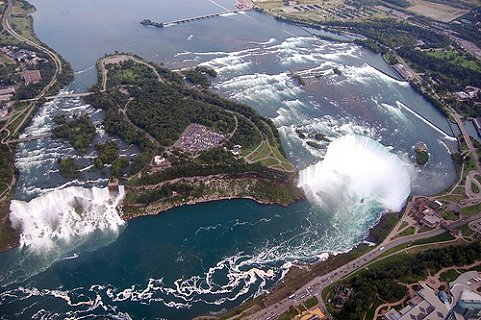 Head out on the road and travel Ontario in your Motor home or caravan rental and you are in for the an incredible journey.
For many years my family and I visited Ontario after driving from Nova Scotia on the east coast to Toronto and Niagara Falls. The drive on the super highway was beautiful, especially in the autumn when the foliage turns to the most incredible spectrum of colors.
Approaching Toronto from the Eastern Provinces.
The highway #401 is wide and heavily traveled as it approaches from the east and enters the city of Toronto. Miles before you arrive, the highway widens from 2 lanes per side to 3 then 4, and as you near the city, 3 collector lanes from each direction feed the multitude of vehicles through the main thoroughfare.
Except for rush hours the driving is moving along at a good rate. The speed limit is 100 km per hour on the super highways but everyone drives 20 km over the limit. They know that over that speed and they are hit hard in the wallet.
The 401 highway stretches all the way from The Quebec border to Windsor, just across the USA border is the city of Detroit.
As you drive west past Toronto you will follow the signs that will guide you to the QEW highway to Niagara Falls as you travel Ontario. This highway is also very busy especially after 2.00 pm during the workweek.
Highway 7 is a toll road but not as congested .
As you approach Toronto from the east you will arrive at Ajax. Watch for the signs for highway # 7 and take the exit to that highway if you want to take a less busier and much better highway. It is a very nice drive west to either the city of Hamilton and the intersect with the QEW, or to the 401 west of Brampton . The toll is charged electronically.
Thinking of Renting a Motorhome? Check for RATES Here.
Highway 400 to the north and Trans Canada Highway.
Travel Ontario highway # 400 to the north from either of these highways and you will be heading for Barrie, North Bay and beyond you want to take highway # 11where you will follow this route running east and west from Quebec to Manitoba.
Now you are in wilderness country. We love this highway as it is inundated with an amazing number of lakes and creeks. The highway is reasonably straight and even though it is only a two lane, paved road, there are a great many areas where you may want to pass the many semi trailers which travel this scenic highway. Here you will soon begin to appreciate the vastness of the Province of Ontario.
North Bay through Sault Ste. Marie and to Thunder Bay
At North Bay you have two choices for routes to thunder Bay.
The route # 11 above or:
Route through Sudbury, Sault Ste Marie, Wawa and Thunder Bay.
We find highway # 17 is the most interesting and in our opinion, the most scenic of the two routes. It can be quite hilly and it has many turns as it follows the shore of lake superior as you travel Ontario.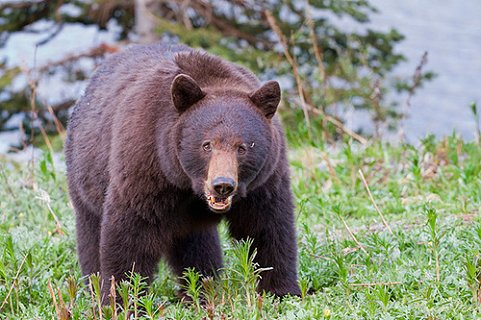 Watch for animals.
These two routes cross through the home lands of a wide variety of animals, both big and small. If you feel the desire to sight see please find a pull-out and take a good look. But you must keep very alert while driving. Get into the practice of allowing your eyes to scan the shoulders on each side as you drive along, looking for bears, deer and especially moose.
These are big animals and if you hit one your vehicle will suffer great damages. Moose are long legged and can stand 7 to 8 feet high. If you hit one with a motor home it will probably come through your windshield.
A bear is more compact with shorter legs but they may weigh over 500 pounds and they are solid.
Deer are fast on their feet and may dart out from the side for any reason. They cannot judge your speed so you must be alert on these two routes.
We want our visitors to have a safe trip as they travel Ontario highways. Many small creatures cross the highways at all times of the day and night. If you cannot avoid hitting a rabbit, porcupine, squirrel then do not cause an accident by swerving, hit it if you must. We have seen more accidents resulting in heavy damages to vehicles caused by drivers attempting to miss hitting these small creatures.
Ontario National Parks
Travel Ontario and you will discover that Parks Canada operates 20 parks ranging from historic sites as HMCS Haida National Park permanently docked in the harbor at Hamilton. This completely restored destroyer saw service during WW 2 and earned the title Train Buster during the Korean War.
Many of the Ontario National Parks offer camping for RV units. You should be advised that all National Parks charge a fee to enter unless you are simply passing through when you travel Ontario. In that case there is no charge. You must tell the toll collector at the park entrance or they will charge.
The Province of Ontario Provincial Parks website lists hundreds of wonderful parks. Choose the area of the province you wish to tour and see the many parks available.
As you travel Ontario you will certainly find many rest areas along the highways and byways. They are wonderful.
Visit all of the Canadian Provinces and Territories
Return from Travel Ontario to Home
Return from Travel Ontario To Motorhome Rental