Cast iron cooking. It doesn't get much better than this.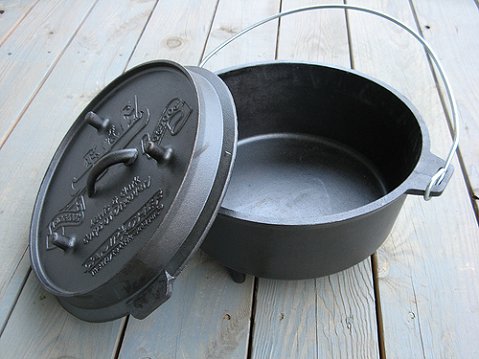 Cast iron cooking can be a real awakening to those who enjoy campground cooking because cast iron has this unique ability to retain heat and disperse it perfectly.
This means that once the iron is up to the heat you like, you can turn down the stove or campfire and the iron will retain the heat allowing you to cook without burning the food.
Dispersment of the heat is very important because this means each area of the pot or pan will generally be at the same temperature. The sides and bottom will be the same heat.
A couple of years ago twelve of us decided to take a boat trip on the Sushwap lake system in the interior of British Columbia. Some ten miles down the lake was a wonderful bare bones marine access campsite. We parked the boat alongside a nice little wharf, off loaded our camping gear and set up our tents.
The site was fantastic. The lake is shaped like the letter H with both 25 mile arms joined together by the narrows about a mile wide. The lake supports a fleet of over three hundred houseboats. The largest of these rent for about $4,000. per week. Our campsite was free.
The next morning we all gathered around the campfire and one couple volunteered to cook breakfast for everyone. The gent worked in a welding shop and owned a cast iron grille. A large one.
My first reaction was to eat some cereal as he had heated the grille over the campfire. I figured it would be burned and a mess.
They prepared eggs, juicy strips of bacon, tender pork sausage and generous slices of ham. They also cooked up the most beautiful blueberry pancakes you could ever want.
The meal tasted scrumptious without the slightest sign of a burnt crust on anything. Cast iron cooking found a new believer.
Afterwords they took the now cold grille to the waters edge and cleaned it with a soft sponge and a small bit of detergent. They explained that every once in awhile they would give it a good scrubbing with a scrub pad and detergent after which they would give it a light coating of fat or oil. Seasoning cast iron skillet important every once in awhile to get rid of the old fat or rust.
So far we have talked about a cast iron griddle that is un-coated, with enamel however there are a great many beautiful products nicely decorated that do not require the seasoning because they are sealed with the enamel.
One of the nicest products you will ever cook with is a cast iron Dutch oven. These cook beautifully. Because the cover also keeps the heat under control the heat is dispersed excellently. Also available are grilles, skillets, roasters, apple pots, oval casseroles and covered casseroles.
Weather it is a cup of tea or a full gourmet meal fit for the entire campground, you cannot go wrong cooking with cast iron.
Seasoning cast iron pots and skillets.
When we first tried the king ranch chicken recipe we were surprised just how nice it tasted. Chicken quesadilla recipe is one you must try. We tried a white chicken chili recipe but didn't care for it. Chicken recipes like tandoori chicken recipe are more our style. We are still looking for an old chicken marinade recipe that will put some zing into the meat.