Chicken Baked Recipes. This One You Will Love.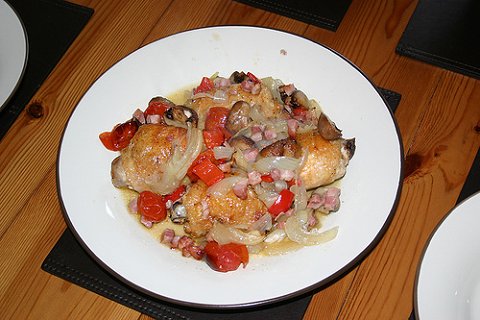 Chicken baked recipes come in hundreds of different recipes. This one has the compelling flavors sweet tomatoes, herbs and wine. It's a little lighter that the regular roast chicken cooked with the winter root veggies like carrots and potatoes.
Ingredients
1 chicken 3 to 4 pounds
1 bunch of fresh tarragon. Chop and reserve the stems
2 peeled shallots
1 small garlic, root end sliced off to expose the heart
2 tablespoons of unsalted butter softened and 1 ½ tablespoons, cubed
Coarse sea salt and black pepper
1 cup of canned whole peeled tomatoes, chopped, liquid reserved
½ cup of chicken broth, reduced sodium
¼ cup of dry white wine
2 tablespoons of tarragon vinegar
Preparation
Preheat the oven to 500 F. wash the chicken and pat dry with paper towels. Stuff the chicken with tarragon stems, shallots and garlic. Rub the chicken with the softened butter, sprinkle with 2 teaspoons of the chopped tarragon and season with salt and pepper to taste.
Place the chicken up on a rack in a flameproof roasting pan and roast for 15 minutes. Reduce the heat to 325 F and cook for another 30 minutes. Transfer the chicken to a plate, cover loosely with foil, and set aside. Turn the oven back up to 500 F.
Take the roasting rack out of the pan and set it aside. Skim the fat from the juices in the roasting pan and place the pan on top of the stove over medium to high heat. Add the tomatoes and their liquid, broth, wine and tarragon vinegar, and two tablespoons of the remaining chopped tarragon and bring to a boil. Use a wooden spoon to scrape the bottom and sides of the pan, loosening the caramelized juices. Let boil until the mixture is thick and saucy, about ten minutes.
Stir the cubed butter into the sauce. Place the roasting rack back in the pan and put the chicken on the rack. Pour any juices that have collected on the plate into the pan. Return the pan to the oven for 15 minutes, basting every five minutes. Serve the chicken with the sauce, garnished with more of the tarragon. Chicken baked recipes are the best.
It is simply amazing how many of our recipes originate from other countries. Chicken tetrazzini, chicken a la king and white chicken chili to name just three. All have their own tastes of course. As a child many years a go we grew up on easy chicken dumpling recipes. Now a days we have slow cooker chicken. And then from our friends from the south, Mexican chicken casserole hit's the spot.
Return from chicken baked recipes to whistler outdoors