Your Best Chicken Recipes Cookbook is About to Get Much Better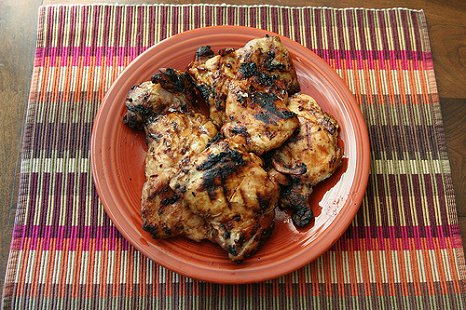 Chicken recipes are plentiful. Everyone loves chicken and over the years people have managed to come up with thousands of tasty recipes. Some are good and some others are wonderful.
Paprika is derived from grinding up chili peppers and bell peppers. The seasoning is used in many recipes to add color and flavor to the food. Flavors range from mild to hot. With the addition of some other varieties of peppers the heat can be extreme to the taste.
Following is a tasty recipe we are certain you will enjoy.
Grilled Paprika Chicken
This recipe serves 4
Ingredients
3 teaspoons lemon juice
3 tablespoons butter, melted
1 clove of garlic, peeled and crushed
1 teaspoon salt
1 teaspoon Hungarian sweet paprikaPepper to taste
1 (3 pound) chicken cut up into serving pieces
Sauce
3 tablespoons of butter
1 small onion, diced
¼ cup of chopped green pepper
¼ cup of chopped mushrooms
1 ½ tablespoons of flour
2 teaspoons of Hungarian sweet paprika
1 cup of chicken broth
½ cup of tomato sauce
2 tablespoons of dry sherry
Preparation
1. Combine the lemon juice, butter, garlic, salt, paprika, and pepper in a dish. Place the chicken pieces in the marinade, turning to coat each piece well. Cover and place in the refrigerator over night.
2. Preheat the broiler.
3. Drain the chicken and discard the marinade. Arrange the chicken pieces on the broiler pan with the skin side down. Broil six inches from the heat source, basting occasionally with the melted butter. Turn the pieces and broil for another fifteen minutes.
4. Now make the sauce by melting the butter in a saucepan, add the onion and sauté until translucent. Add the green pepper and mushrooms, sauté until tender. Add the flour and cook, stirring constantly until boiling. Remove from the heat. Stir in the paprika, and then return to the heat. Add chicken broth and tomato sauce. Cook, stirring constantly until the sauce thickens. Add sherry, stirring well.
5. Serve the chicken, accompanied by sauce, boiled rice and a green salad.
This is a tasty chicken paprika recipe the whole family will talk about every time food recipes come up in a conversation. Play with the marinade by trying a few of your own favorite ingredients.
Be sure to check out these two recipes baked chicken recipes, Chicken paprika as they are delicious.
Recently we were enjoying a chicken satay recipe. We enjoyed a chicken pie recipe a few evenings previously. We ended up trying to compare these two meals to the kfc chicken recipe. The jury is still out. The chicken franchise recipe they use is one they have tweaked for many years. When we were growing up we often had chicken fricassee but I could never quite develop a taste for chicken curry recipes.
Return from Chicken Recipes to Home
Return from Chicken Recipes to Campfire Cooking