Baked Chicken Recipes Like Grandmother Used to Make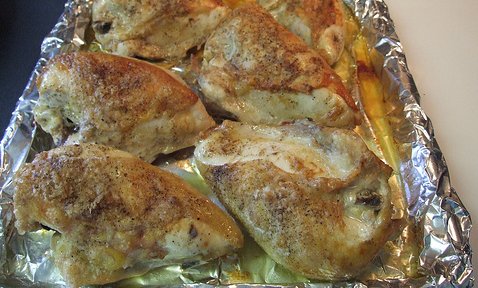 Baked chicken recipes. Every cookbook is filled with them, however I would rank this one from my grandmothers one of the best I ever tasted.
This is the one you should use on that long hot summer day at the campground after everyone is tired out from a full day in the outdoors. After a feed of this delightful chicken the kids will be asleep in no time leaving you a quiet evening to yourselves.
2/3 cup of buttermilk baking mix or Bisquick Heart Healthy Mix
1 ½ teaspoons paprika
1 teaspoon of seasoning salt
½ teaspoon black pepper
3 pounds of chicken either chicken breasts, legs, drumsticks or a whole broiler-fryer chicken cut up.

Directions

In a large ziplock bag place the baking mix you wish to use along with the salt and pepper and paprika. Seal it up and shake it well to mix the ingredients. Add the chicken a few pieces at a time and shake it until well coated. On a greased metal baking sheet place the chicken in an orderly fashion. Place this on the grill on medium heat and cover with foil or a cover. After half an hour turn the chicken over and another 30 to 45 minutes until well baked. Enjoy.

This next baked chicken recipe is one you can cook without frying. This is a recipe that will feed at least ten so be forewarned.

Ingredients
2 cups of potato flakes
¾ cup of parmesan cheese, grated
½ teaspoon black pepper
½ teaspoon onion powder
2 tablespoons of dried parsley flakes
½ teaspoon garlic salt
1 tablespoon paprika
2 four pound broiler chickens. Cut up and skin removed or equivalent skinless and boneless chicken breasts.
1 cup of butter, margarine or olive oil

Directions

In a mixing bowl combine the potato flakes, cheese, paprika, garlic salt, onion powder and black pepper.

Dip the chicken into the butter or oil and then roll it into the dry mixture until thoroughly covered.

Grease one or two baking pans and lay out the chicken pieces. Place in a pre heated oven at 475 F for 10 minutes and then turn down the heat to 375 F for 50 minutes until baked. Enjoy.

This next recipe is the perfect one for those who get home late and tired from work or don't want to prepare a nice recipe at the campground because you can prepare it the day before and keep it in the fridge until desired.

Ultra Baked Chicken Breasts

Ingredients
1 ½ cups of sour cream
¼ cup lemon juice
½ teaspoon Worcestershire sauce
1 minced garlic clove
½ teaspoon sweet paprika
½ teaspoon celery seed
½ teaspoon salt
¼ teaspoon black pepper
8 halves skinless and boneless chicken breasts
1 1/2 cups of dried bread crumbs

Directions

Using a large bowl combine the cream, lemon juice, Worcestershire sauce, garlic, paprika, celery seed, salt and pepper and mix this well. Place the chicken breasts in the mixture and make sure it is well covered. Cover it and place in the fridge overnight to marinate. Remove the chicken and roll in the crumbs and arrange them on a shallow baking pan. Bake for 45 minutes uncovered at 350 F until baked through. This is one of the best baked chicken recipes I ever tasted.

Suggestion

Some people will use a little fresh celery in place of the celery seed.

Crock pot chicken and the lemon chicken recipe are really good for a hungry family. The children come home after school and one wants me to make one of their grilled chicken recipes and the other wants me to do one of the chicken wing recipes. If I have time I will cook up a good roast chicken recipe. I need to be careful since they really love my favorite chicken salad sandwich recipe I use when I prepare their school lunches.