Chicken Paprika. Better Than Baked Chicken Wings?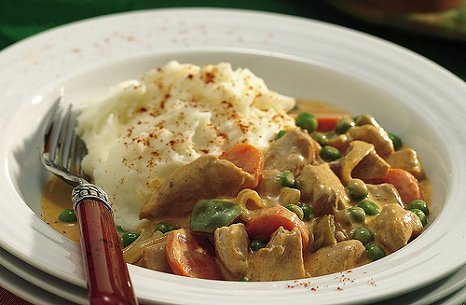 Many years ago chicken paprika was almost a staple in our home when I was growing up. Oh didn't we love it. It smelled so great. But as things happen our tastes change, new recipes pop up and some of the older ones get to sit on the shelf for another day.
I remember when I was attending school with my brothers and sisters. We would arrive home tired and hungry. We would open the door to our home to the most wonderful aroma one could imagine to find that our mom had been at it again. The combination of fresh cooked chicken spiced with paprika would drive our nostrils and senses crazy.
Not long ago I happened to find her recipe and present it to you here.
This recipe serves four.
Chicken Paprika
Ingredients
½ cup plus 2 tablespoons of flourSalt and Pepper to taste1 (3 pound) chicken cut up into serving pieces¼ cup butter1 medium onion, sliced½ pound of sliced mushrooms1 tablespoon of Hungarian sweet paprika1 cup chicken broth½ cup of dry white wine½ cup of sour cream
Directions
1. Combine ½ cup of flour, salt and pepper in a paper bag. Add the chicken pieces, a few at a time: shake to coat well. Melt the butter in a Dutch oven over medium heat. Add the chicken and brown well on all sides. Remove from the pan.
2. Add onion to the pan and sauté until lightly browned. Remove from the pan with a slotted spoon and set aside. Add mushrooms to the pan and sauté for 5 minutes. Remove from the heat, and then add the paprika. Stir in the chicken broth and wine. Return the chicken and onion to the pan.
3. Bring pan to a boil over medium heat. Cover and simmer for 50 to 60 minutes, or until the chicken is nice and tender.
4. Combine 2 tablespoons of flour and sour cream, blending it well. Remove the chicken from the pan and keep it warm. Stir sour-cream mixture into the pan juices. Cook over very low heat until the sauce thickens. Pour sauce over the chicken and serve.
When we were young our mom used to serve this with potatoes and plenty of vegetables and it was fantastic. Now we tend to replace the potatoes with rice and it is amazing.
Treat your family with this wonderful meal on a cold day when the aroma hangs low in the kitchen. You will be amazed at their reaction.
Our family has always contended that this recipe was even better than another favorite of ours, baked chicken recipes.
If you like chocolate you will enjoy chicken mole. It is delicious. Be sure to try the parmesan crusted chicken and the chicken and dumpling recipe. Of course the chicken ala king recipe is the old standby. Pineapple chicken recipe has that nice Hawaiian taste. There are a vast number of chicken crockpot recipes available to be enjoyed by the whole family.
Return from Chicken Paprika to Home
Return from Chicken Paprika to Campfire Cooking