Motorhome Travel in Canada. Edmonton/Calgary Alberta to Whistler British Columbia.

Canada is a very large country.
Motorhome travel. What a fantastic way to travel!
Imagine this. If you board a flight in St. Johns on the east coast of the province of Newfoundland and fly to Halifax, Nova Scotia it will take almost 2 hours. Then fly from Halifax to Vancouver British Columbia it takes 8 hours. And that is at 900 km (540 miles) per hour. Yes Canada is huge.
Canada covers 5 time zones.
To drive a vehicle from Calgary Alberta on the Trans Canada Highway to Vancouver it takes 12 hours via motorhome travel time.
To drive from Vancouver to Victoria via a ferry it takes approximately 3 hours including waiting in line. BC Ferries operate all over the province.
Of course you can travel by VIA Rail across Canada and not need to worry about the driving. A wonderful trip is from Edmonton through the beautiful Rocky Mountains in the observation car. You'll never forget it.
For visitors flying from Europe who want to rent a car and drive from Alberta to Vancouver, staying in Whistler , you are in for an exceptional vacation.
Check for Motorhome Rental Rates Here
Traveling by road is easy along the Trans Canada Highway. A good many folks from Europe chose to fly to Edmonton or Calgary in the province of Alberta, rent a motor home and drive through the Rocky and Coast Mountain Ranges with Whistler as their destination.
Couples who like lots of space and/or who are traveling with friends or family may consider renting vehicles with sleeping accommodations for 8 people, adequate sized washrooms and plenty of good features. Be sure to inquire if the vehicle comes equipped with an axe as these come in handy chopping wood for the campfire.
Motor homes come in three sizes.
Class A motor homes are the ultimate in motorhome travel accommodations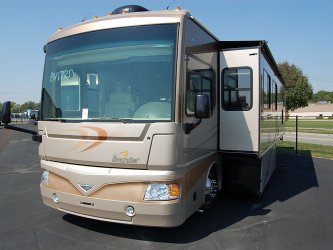 Class B motor homes make motorhome travel a breeze.
Class C motorhome travel is so easy.
Also available are the truck mounted campers.
Another option is the camper or conversion van. If you don't need the roominess of a motorhome, travel in a luxury van.
The many styles available offer room for up to 8 people. You can rent units with slide outs allowing for a very interior.
One thing a person should realize. The larger the vehicle, the more space it requires. The Class A is a beauty, however if you are trying to park it in a small site it may not fit. Motorhome travel is really convenient.
GoRVing magazine is a real must for the folks on the road. Great information and club news.
Lets go Anywhere! Get a guaranteed lowest priced Hotel Rooms anywhere in the world.
British Columbia is very heavily treed. Big trees. Some parks do not de-limb the trees more than 11 feet so this can be a problem when trying to fit in.
For a couple who do not require a lot of elbow room, consider a camper conversion or a truck camper. These are really handy, can be parked almost anywhere and are very mobile. Motorhome travel is convenient but be aware of the parks with smaller sites.
BC has a forestry campsite system where these units work perfectly with the layouts.
Your dealer will help select the proper vehicle for you. They will take you through the unit making certain you know where everything is and you know what to do in emergencies. All you need to do is load your belongings, stock up on food and hit the open road.
Two routes are available, with other possibilities.
From Edmonton take highway 16 to Jasper and then 93 to Lake Louise where you meet the Trans Canada Highway. This route is incredible.
Jasper is located inside the national park and there are good campgrounds available for motorhome travel.
An interesting drive is up to Mount Edith Cavell for some high up views and a very close up and friendly visit to the glacier.
Be sure to stop and view the Athabascan falls to see nature at it's roaring best on your route to Lake Louise.
I don't believe there is a more scenic, rugged, or beautiful 230 km (134 miles) stretch of highway than the drive from Jasper to Lake Louise.
Motorhome Rental is easily done. Learn all about it here.
The crowning glory of course is the huge Columbia Icefield .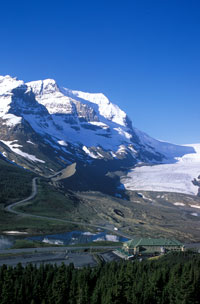 Set against a background of Mount Columbia, 3841 meters (12293 feet) the beautifully designed tourist centre is your jump off point to the thrilling drive on a glacier where the ground below you is 312 meters (1000 feet) under the ice. If you came all the way from anywhere to here, you must take this tour. Motorhome travel is a pleasure.
Finally you will arrive at Lake Louise in Banff National Park. All I am able to say about the view from the Chateau is wow. A beautiful walking trail takes you from the Chateau and around to the other end of the lake.
The second route will be to continue on 16 from Jasper turning left onto Highway 5 at Tete Jaune Cache. This takes you to Kamloops British Columbia. The scenery is not as spectacular here but it is a nice, serene drive. Mount Robson. 3954 meters (12,972 feet) is the most scenic point. the three camping areas here offer spectacular views of the mountain.
If you chose to fly from Europe to Calgary and rent a motor home or trailer and truck, You may either drive the 310 km (187 miles) north to Edmonton or head to Lake Louise, past Banff on The Trans Canada Highway 1 and then on to Vancouver.
Whatever route you choose you will love the drive through the mountains and will arrive at a little town called Hope only 150 km (90 miles) from Vancouver and approximately 4 hours from Whistler.
There are many RV parks all along your route. Motorhome travel is so easy. Click here to visit our British Columbia camping page.
The Province of British Columbia operate a great many beautiful parks. Rates are very reasonable. Depending upon your site services you may pay anywhere from $9.00 to $28.00 per night. Nearly all have restrooms with flush toilets, showers, nice large sites with good solid tables with table tops 8 cm (3 inches) thick. Each site is equipped with a fire ring. You will need to watch for the water supply on your way through the parks to your site and fill up if needed. You can trust the supply as the Provincial Park water supply is well monitored. Some sites have on site hosts.
Most Provincial Park campgrounds do not have electricity or water at individual sites. Water is always available in the park and most have dumping stations. Services are available at Steelhead and Juniper Beach near Kamloops.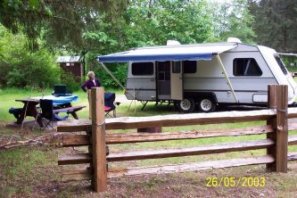 The most popular sites will be serviced by concessionaires who will come around to your site in the evening to collect the fee and sell firewood. If you want a fire I suggest you buy it as it is not only fairly dry but it is split for you. The peace and tranquility of motorhome travel.
I should also note that the parks people really frown on cutting down a tree for firewood and by doing so you could find your self in very deep trouble.
Of course there are a great many privately owned RV parks. Expect to have more services like electric power and water, cable TV etc. The rates are variable depending upon the quality of the park and the services offered. You can expect to pay anywhere from $24.00 up to $45.00
If you have arrived at Hope and it's around one in the afternoon, I would suggest staying in the Fraser Valley (runs from Hope to Vancouver) for the rest of the day and get an earlier start the next morning for Whistler.
There are privately operated parks at Hope, Harrison Hot Springs (5 of them) Heerling Island before Chilliwack and a few more here and there.
A large Provincial park is located at Cultas Lake. The three campgrounds all are exceptional but are very popular by the locals. You may have a chance of getting in from Monday through Thursday morning without a reservation, however weekends are mostly sold out very early. Motorhome travel is fantastic.
There is a Provincial Park Reservation system. The phone number is 1-800-689-9025.
You can get to cultas lake by taking the 119B exit from Hope onto Vedder Mountain road, drive through town until you cross the iron bridge across the Chilliwack river. Continue along 1 km (½ mile) to the stop light. Turn left up the hill and follow the Columbia Valley road for 6 km (3 ½ miles) to the park entrance.
The Provincial Park sites, on the whole are nice and large with plenty of room for motor homes, travel trailers and tenting. Some sections may be marked "available for reservation". This means that if you park in that site and the park fills up overnight you may need to move next day. Note. The reason I suggest you stay overnight here is you may run into the heavy supper hour traffic going through Vancouver which tends to be quite congested from 3 to 8 pm. Better to wait until morning.
Another reason is that you don't want to travel from Vancouver to Whistler in the dark or you will miss the totally incredible scenery along the route. We class the Sea to Sky highway as one of the worlds most scenic highways.
There is a scarcity of full service RV Parks along the Whistler corridor. There are a few Provincial campgrounds but in Whistler itself there is only on RV park. Riverside RV Resort & Campground. It has 107 sites and open year round. Motorhome travel allows for many options.
Stawamus Park is located near Shannon Falls just before you reach Squamish.
BC Parks operate several very nice campgrounds. Britannia Beach has a small one but a beauty. Just before you reach Britannia you will see the sign for Porteau Cove Provincial Park. Try it, you may get lucky and find a site. It's a popular site.
Alice Lake is a good park with large sites. 13 km (7 miles) past Squamish on your right.
Nairn Falls is another BC parks campground. Approximately 30 minutes north of Whistler on your right. Nice big sites. The falls are a great attraction.
Birkenhead is another BC park north of Mount Currie. Set on a beautiful lake.
Nashville Vacation Attractions and Entertainment - The place to find Nashville tourist attractions, Nashville entertainment, outdoor water parks, museums, restaurants, bars and more.
CamperTrails Motorhome Vacations Discover something new on your next vacation - CamperTrails' FREEDOM, FLEXIBILITY and FUN travel concept. The site is packed with all the information you need for a great, action-packed RV adventure - worldwide.
Everything About RVing.Our family started this website so we could share the knowledge we have gained after 35 years of RVing, Whether you are a new or experienced RVer, this site contains useful information about RVs and the RV Lifestyle. This information will be presented with a little a bit of humor mixed in to keep it entertaining. So, buckle up and let's begin our journey!
Pop-up Campers are all the rage now that the fuel costs are sky high. Here you will find all of the information you will ever need on these great campers.
Visit all of the Canadian Provinces and Territories
Return from Motorhome Travel to Whistler Outdoors
Return from Motorhome Travel to Motorhome Rental