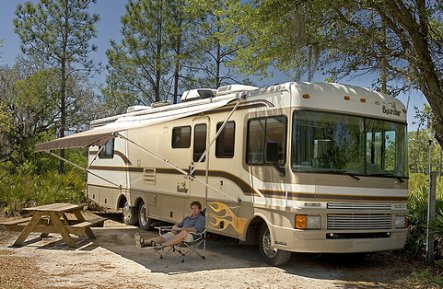 RV Camping is great fun…..if you know HOW.
RV Camping. The great outdoors at your feet. awaking in the morning to the sounds of birds singing their little hearts out only for you.
The muffled silence of the campground as other campers go about the chore of breakfast preparation in the early morning.
What a wonderful experience.
Irma and I love RV camping. It is our second love affair.
Our first was and is our love for each other for the past 50 years.
We have enjoyed camping for most of that time.
We have backpacked carrying a pup tent. We backpacked with a three person tent. We have towed everything from ten feet to thirty feet in length and have learned quite a lot about this CAMPING thing.
Camping can be fun time or misery. It's your choice. Good planning can result in a wonderful trip but poor planning will cost you in time, money, and heartaches.
Tenting can be a whole lot of fun. If you have the urge to go camping, then by all means, buy a tent and some good equipment and go for it.
Check for Motorhome Rental Rates Here
Tenting can be a whole lot of fun. If you have the urge to go camping, then by all means, buy a tent and some good equipment and go for it.
Good camping equipment is a must. Don't go Cheap. Think Quality and You will save money in the long run.
We suggest you take a look at some of the the tested and proven items at Mountain Plus Outdoor Gear.
When our four children were small we tented all the time. Later, after they flew the coop we continued to tent until one holiday weekend morning in an RV park at Fort Langley, British Columbia. Irma returned from a trek to the washroom totally ticked off. There was a large lineup. Once she calmed down we decided to look into buying a travel trailer.
At that time we knew nothing about fulltime Rving and the lifestyle it entailed.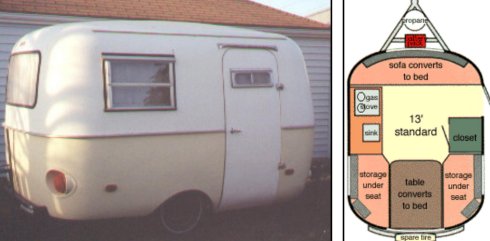 First we thought of an RV camping rental but decided we had to buy instead. As money was scarce we bought an old 10 foot Boler. It was all fiberglass, very lightweight and tiny. Really tiny. It was at least 20 years old but with a little of Irma's TLC it was our new home. Look at the floor plan. We had room for a tiny portable toilet to fit under a seat. Now one of us would leave while the other….well…you know.
We towed it with our ten year old Buick. The shocks on the car told us it didn't like the extra weight on the back so we bounded along rather than rode. But we had fun.
A year or so later we sold it and bought a 17 foot Bigfoot. Wow the room we had. A washroom with toilet and sink and running water. We were in RV heaven.
We had purchased a GM van. It towed perfectly. Took it across Canada and back through the USA. The previous owner had spent a lot of time and money in re-doing all of the mechanical things. Everything worked.
When you have a trailer you never know what will happen next. But you can count on it. Something will happen while RV camping.
We were driving along an interstate highway in Iowa when suddenly I heard a bang. Out of the rear window I saw the trailer was lopsided. Pulling over I discovered the leaf springs had broken on the left side and the trailer was now sitting on the axel. The bolts were right against the fiberglass floor. To continue on would do major damage.
I drove along a couple of miles trying to decide how I would fix it. What could I put in there to get me home without being gouged in a local repair shop. Suddenly I spotted a bug chunk of rubber sitting on the road. A tire from a truck had disintegrated. I picked up a length about three feet long, stopped at a rest stop, bent it in two and held it together with duct tape.
We jacked up the trailer, inserted the rubber sandwich where the spring would be, lowered it down and drove back to BC without a problem. A new spring installed in Vancouver cost less than $50.00
Get to know your trailer and keep your money.
RV camping is a matter of trial and error. For instance. Towing a trailer requires a proper hook-up. We strongly advise that you make certain your vehicle is rated for the trailer weight.
Here's what we did.
We owned a Safari Van. We bought a 25 foot trailer new from the dealer. The rep told us we could tow it no problem. I went to the GM dealer and we were assured we could also. Soon, while camping on Vancouver Island, we were advised by a couple we met to trade the van for a ¾ ton truck if we intended to take it on a long haul, otherwise the rear end or transmission would not hold up.
We traded, drove it all over BC and Alberta, down to Arizona where we traded the trailer for a 30 footer. It weighed 7,000 pounds but the truck handled it with ease and we never had a problem towing it.
You must get expert advice in adjusting the torsion bars and anti sway bars if you have them. Properly done you will have a safe journey. Improperly done you could do some serious damage to yourselves and others.
This is how we set up our truck and trailer for RV camping trips.
First, go to a large parking lot where you can have the truck and trailer lying level. Nice and flat. Disconnect the trailer from the ball by jacking it up clear.
With a tape measure, note the distance from the bottom of the FRONT bumper to the pavement.
Do the same from the back bumper. Now you have the distances for both while there is no load on the bumper.
Now lower the trailer onto the ball and lock it. Now jack up the trailer at the hitch quite high. Hook up the torsion bars equally noting the number of links from the bars. Lower the jack all the way down. Step back and have a look. With the tape measure check the distances again. If they measure the same as before, find the nearest lotto store as this is your lucky day. Very seldom will you hit it right on the first try. RV camping is not an exact science.
If the back bumper is too low, raise the unit again higher this time and come down one more link until you get it right. When the distances are equal you now have a balanced trailer.
If you have an adjustable hitch, you should check the level of the trailer after the balancing is done. If the front of the trailer is low you will need to raise the adjuster one hole higher. Try it again until the trailer is level.
Making these adjustments before setting out on the road will help you to have a safe trip and avoid excessive tire wear on the trailer.
Anti sway bars
The wind wave being pushed from the front of a semi trailer or bus is powerful. As they approach from the rear, that pressure hits your trailer on the side as if a giant hand gives you a shove from the back. Suddenly you feel as if the truck wants to veer into the other lane. What happens is that the pressure hitting the rear of the trailer pushed against the tow bar causing an opposite reaction. If you have the bars adjusted you will feel the push but experience only half the sway. If you don't have the bars, purchase them from an RV camping supplies store.
Driving a rig in heavy traffic is intimidating. Driving one in traffic without anti-sway-bars is scary. Also, driving without adjustments is as good as none at all.
While hooking up, put the anti sway bars in place locking them with the safety pins. After leaving the rv camping sites, drive out to the highway where you will be traveling. Pull over to the shoulder well out of the traffic with your flashers on. Get out and tighten the bar tension as per your user guide for the bars you are using.
This is a system called the Hensley Arrow. If you don't have anti sway bars for your trailer hitch, you really should get one. The lack of good anti sway bars is the major cause of RV accidents. RV camping should be safe journey.
Most anti sway bar systems are controlled by friction as ours did. However this Hensley Arrow is controlled by hydraulics. The whole apparatus will be mounted on the hitch area of your trailer. They are completely guaranteed. If you are wanting safety for you and your family this could be the solution. Keep rv camping safe.
Now you are ready to go.
The Sprinter had poor jacks under the corners. The trailer was much too heavy for the jacks that were designed to slide along the ground as you worked the handle. Two of ours bent so we bit the bullet and installed four heavy scissor type jacks. I purchased a 24V portable drill and a ¾ " socket and driver to fit.
Oh, were we the envy of the campground when we would pull in, disconnect the trailer at the hitch, drop the jacks down in seconds and sit back in the camp chairs while the others cranked and cranked their units. The drill had enough power to level the trailer easily on uneven ground. Just be careful though. These drills produce a lot of torque and can cause you serious damage unless you are careful. If you wish, an 18V will do the trick but may not be able to level it as easily.
RV camping sites are not all the same. Some may not have the services close to you and unless you have extra hose or electrical cable you will not be able to hook up.
Heavy duty electrical cable is very expensive (what isn't in the RV camping supplies stores) but if you are smart you should hit the flea markets or garage sales where you may get lucky and get a real bargain. Keep your eyes open for 30 and 50 amp adapters as well because you will need them.
Camping in provincial parks can be a problem because they hardly have hook-ups. Some don't have electricity in the restrooms. If you have an electric shaver you are going to grow a beard, unless you pick up an ac adapter. You plug it in to the 12V plug, plug the shaver in and flip a switch.
We had a 20 inch TV we liked and fitted it into a space in the room. It was 120V AC so we could watch it by plugging it into the adapter. Just be careful though. These can drain a battery quickly.
If you are using rv camping sites without hook-ups frequently, you should buy another battery and hook them up in series. This will give you that extra power for longer stays while RV camping.
We always make sure we disconnect the trailer from the van electrical hook-up. You don't want to wake up some morning with all the batteries dead.
Glue on level gauges are inexpensive and come in really handy when leveling. Apply them to each corner to save you running around with a level.
If you want the convenience of Satellite TV while camping you can buy a rig with a spring that will screw a spring into the ground to hold it down. However, most of the time the ground is too hard to do so. What we did was to mount the dish on a piece of ¾ inch plywood about 2 ½ feet square. All you need do is fasten the dish to the mast, lay it on the ground and hold it down with a couple of rocks. Very steady.
Carry with you two pieces of 2 X 8 ". One piece about 36" and one about 24". If you are in a sloped campsite you can place one on top of the other to raise one side up 3".
Keep a few good tent pegs handy. The 8 inch spikes with the plastic hooks are best and may be driven into very hard ground. A good practice is to drive a couple into the ground and tie down the awning. Too many times we have awakened in the night to the heavy flapping of the awning. Once we were on a hike and a gale blew in. Luckily we returned to find our awning intact while our next door neighbors lost their entire awning.
A few years ago we were in north Georgia camping when we found a motor home for sale on a side street. It looked wonderful. Only after checking with a neighbor did we discover it was a motorhome salvage dealer. We checked the motorhome blue book, checked the Maine camping guide and headed off for a Massachusetts camping trip in our old unit. If you take along a campfire grill on your next trip you want to take along some campfire recipes to treat everyone. Print out some campfire song lyrics and some campfire games to put some fun into the trip. Short campfire ghost stories will go over big with the kids.
Click here to visit Motorhome Travel
Click here for driving directions to Whistler
Click here to view our camping equipment list.
Click here to visit our British Columbia camping page.


Feel free to link to our site. Copy this code into your site.
Return from RV Camping to Whistler Outdoors