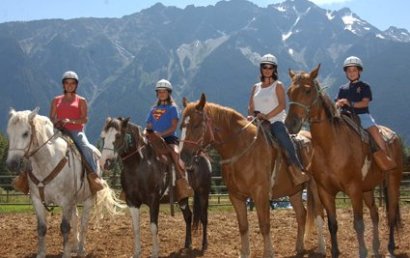 Trail ride. Where your Pemberton adventure begins.
"You can give without loving, but you cannot love without giving."
Amy Carmichael
Just the words
trail ride
spell adventure. Put them together with Pemberton and you are in for all the fun you will want during your Pemberton vacation.
Perhaps you are sitting at home planning your vacation trip. What will you want to do? Something exciting perhaps? You go down the list of adventures Pemberton has to offer. Jet boating on a whitewater river. Para-gliding or glider soaring over a beautiful valley with snow capped mountains literally feet from your glider.
Those activities will get your heart thumping, of that there is no question, however, for a unique adventure, why not consider a peaceful trail ride through the picturesque Pemberton Valley.
A slow gait up through the magnificent cedar and pine forest, emerging above the tree-line where you will marvel at the beauty of the gorgeous array of wild flowers. View the wild and magnificent Coast Mountain Range stretching out before you for miles in every direction.
Take a breather alongside a pristine mountain lake where your guide provides you with a "stick to your gut" lunch. Enjoy the sweet aroma of the meadow with its carpet of wildflowers such as Indian paint brush. Take in the view of the majestic mountains with glaciers glistening in the sunshine.
Return along the shady forest trails where huge cedar, hemlock and pine trees stand as sentinels as they have done for hundreds of years.
That's what awaits you during your trip to the wonderful Pemberton Valley.
Lazy Crow Ranch
At the Lazy Crow Ranch you may choose to go on a 2 hour trail ride along the beautiful Birkenhead Canyon through ancient cedar and pine forests, or a 4 hour ride over mountain trails, through Black Bear Hollow to an abandoned gold mine. This ride includes a delicious lunch on the trail.
The guides at the Lazy Crow also offer 2 different, all day rides where you will take you to places you never imagined a horse would go. You will view alpine lakes through lush meadows and view a huge glacier. Of course lunches are included.
Open year round. Phone 604-966-8412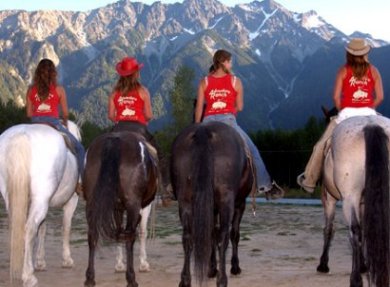 Adventure ranch
Nestled in the heart of the coast Mountains, the Adventure Ranch offers a host of outdoor activities including jet boating, whitewater rafting and especially horseback trail rides into the mountains. After your trip you may want to relax in the swimming pool or perfectly groomed gardens.
The ranch has been in operation since the 1970s and offers 2 hours of amazing trail riding at various times through the day. The friendly cowgirls and great horses will guide you along the great variety of trails. River trails and forest trails will leave you with a hearty appetite which may be satisfied at one of their famous barbeques.
Open May 15 to Sept. 15. Phone 604-932-5078
What to wear
Long pants. Closed in shoes (running shoes are ok), seasonal hat, sunscreen, and your camera.
The ranches provide Rain slickers, Helmets, horses and great guides.
Pemberton Video. This excellent video is certain to enlighten you. Be sure to view it.


Return from Trail Ride to Whistler Outdoors