A Ski Equipment Guide to help you to select, and be fitted, properly.
"Don't frown. You never know who is falling in love with your smile."
This is simply a Ski Equipment Guide to give you an insight into the various skis, boots and accessories available to-day, and how to be fitted for your package.
When you think about it, rock carvings from over 6,000 years go were found in the Arctic, and some 2,500 years ago a skier lost his skis in a peat bog in Sweden (sure missed that trail a bit). Most of the modern technology has been invented in the last ten years.
My first pair of skis measured 220 cm (7'4") long. It's a wonder I wasn't killed. (Shows how old I am.)
To-day skis are a lot shorter and the length is dictated by the type of ski you are going to use.
Freestyle skis are the only way to go for the young skiers. With the terrain parks and great half pipes these short twin tip skis are ideal putting spins and quickie turns in the range of everyone.
These are Freestyle skis
Big Mountain Skis
These are the skis for the soft stuff up in the bowls. These very tough skis are designed to cut through any ski condition you can come up with. Really fat, they take second place to none other.
These are Big Mountain skis.

Freeride skis are a compromise between the side-cut for skiing the groomed runs, and fat enough for the deep snow. Head off to wherever your nose takes you with these under you. Overall they are easier to handle than freeride skis.
The Freeride skis.

The modern race carving skis will give you all the performance and speed you can handle. If you're a good skier, these are the skis you should consider. Skier X skis are basically the same ski , but with much deeper side cuts and greater surface area, they will handle the deep snow better.
Racing and Fast Skis
Do you really need to buy skis. There are a few things to consider as part of the ski equipment guide. If you only take a ski holiday once or twice a year, you will probably be better off to rent skis at the resort. Beginners and intermediates should certainly do so until they are sure of their mobility. By renting skis it gives a person the opportunity to try different styles and lengths before laying out the big dollars. This ski equipment guide will save you money and headaches by helping to advise you on the choices you face.
Another consideration is costs. When you rent skis, the service person will adjust them for you so you hit the slopes with skis that work properly. Most rental shops insure their skis against breakage and theft.
Once you have some experience, ask as many questions as you like at the shops as to what skis would be good for you and after renting to find out for yourself, purchase a pair and head for the ski hills.
Bindings
There are an incredible array of bindings in the stores today. Again, a knowledgeable staff at a good ski store will be very helpful, as well as the staff at the rental shop. These folks outfit skier every day. No need to spend hundreds of dollars on the top rated bindings if not a top notch racer.
Finally, poles really do not do anything but make you look good. Take a look in the shops at the amazing variety on hand. So many in fact you will not need a ski equipment guide to assist you.
Boots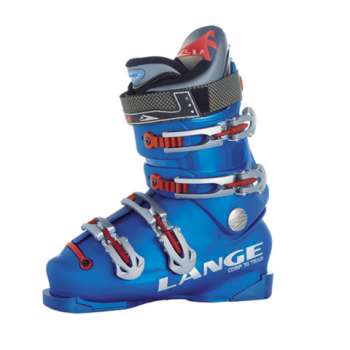 More than likely, you will purchase boots before the skis. One Recreational skiers may use a slightly flexible boot while competitive skiers need a very rigid fit.
The inside foot-bed is what provides comfort. Do you wear an arch support? What about an orthotic? These things are important when getting fitted. Perhaps you have an oddly shaped foot. A good boot may be adjusted to take these things into consideration.
While putting this ski equipment guide we can't stress enough that when you are seeking a good boot that you take the advice of a good boot fitter. They will take all of the things into consideration before attempting to fit a boot to your foot. This is called MONDO point sizing in the world of fitting.
If your feet are anything like mine you will be comfortable with a pair of ski socks to round out the little corners.
You will want to check your boots by standing up on them and leaning back. Your toes should be free from the front. Can you lift your heel? Can your foot move a little? The boot should keep your foot rigid without being uncomfortable.
Ski boots are all about comfortable fit without movement. A lot of time being fitted now will spell comfortable days in the great outdoors for years to come. We hope this ski equipment guide has been of some help to you.
Learning x-country skiing is great fun. check it out here.
---
Feel free to link to our site. Copy this code into your site.
Return from Ski Equipment Guide to Whistler outdoors