Crock Pot Roast. Makes a Fantastic Dinner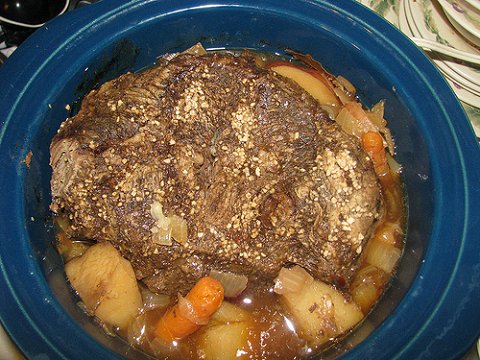 Crock pot roast. This is a wonderful method to cook the perfect dinner. In fact you can get it together during breakfast, head off to work or that golf game or a day at the beach and arrive home to find it ready to serve. Crock pot cooking is an amazing way to prepare a meal.
No matter if it is your favorite barbeque chicken recipe, cooking perfect steak or cooking salmon steaks, you must really give crock pot cooking a try with this recipe.
This is a very simple recipe, however at the end we will give a few suggestions to make it even better.
Mom's simple crockpot roast recipe.
Ingredients
2 ten ounce cans of condensed cream of mushroom soup
1 one ounce package dry onion soup mix
1 ¼ cups of water
5 ½ pounds pot roast
Directions
In a slow cooker, mix cream of mushroom soup, dry onion soup mix and water. Place the pot roast in a slow cooker and coat with the soup mixture.
Cook on high setting for three to four hours, or on low for eight to nine hours.