Swiss Steak Recipes. A hearty Steak Platter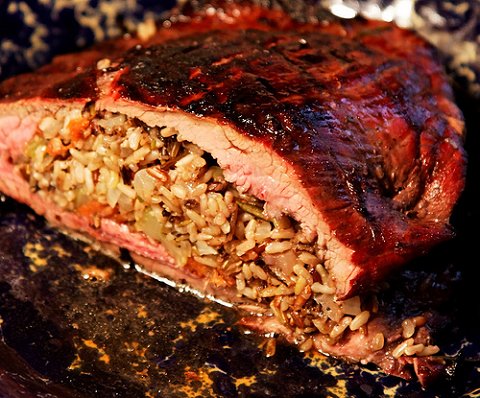 Swiss steak recipes are wonderfully diverse. The Swiss really know how to prepare very tasty meat dishes.
Spinach-Stuffed Steak or Burgers
Great cooking like this produces the best steak or hamburger ever.
Stuffing

10 ounce package of frozen spinach thawed and drained
¼ teaspoon salt
¼ teaspoon pepper
½ teaspoon fresh garlic
2 ¾ pound steaks (strip, porterhouse, T-bone, or, 1 ½ pound ground beef
6 slices of bacon cut into ½ inch pieces
2 tablespoons of butter or margarine

Sauce

1 tablespoon of all purpose flour
¼ teaspoon of salt
2 tablespoons tomato paste
½ teaspoon of minced fresh garlic

Directions

In a small bowl stir together all stuffing ingredients; set aside. To prepare the steaks, trim excess fat from the steaks. Lay the steaks flat on the counter and with a sharp knife split each steak from the outer edge toward the bone, making a pocket. Divide spinach mixture; fill each pocket.
To prepare hamburgers, divide the ground beef into four equal portions. Form into oblong patties measuring about 4 X 3 inches. Make an indentation into the middle of each pattie. Divide spinach mixture; fill each indentation.
In a ten inch skillet cook the bacon and butter over medium high heat until browned. Place steaks or hamburgers in same skillet. Cook over medium high heat turning once until desired doneness (7 to 9 minutes for medium steaks or ten to fifteen minutes for medium hamburgers.
Place meat on a platter; keep warm while preparing the sauce. Pour off fat, leaving bacon and brown particles in the pan. Reduce heat to medium; stir in flour. Cook, stirring occasionally, until mixture is smooth and bubbly (1 minute). Stir remaining sauce ingredients. Continue cooking, stirring occasionally, until thickened ( 4 to 5 minutes). Serve over steaks or hamburgers.
Beef stroganoff recipes, beef tip recipes and a beef Wellington recipe are terrific meals to serve up when the weather turns cold in the fall. Our friend did up the best beef jerky recipes ever. Boneless pork chop recipes are also a favorite of ours. They go good with breaded pork chops. We tried a Mongolian beef recipe once but it wan not our favorite meal. Cooking beef tenderloin is a snap as well as cooking corned beef. When you want to do pork chops try some crock pot pork roast recipes for a change. Crockpot beef recipes take all of the stress out of cooking.
Return from Swiss steak recipes to Whistler Outdoors