Vancouver Olympics opening ceremony in BC Place Dome.
"You can make more friends in two months by becoming interested in other people than you can in two years by trying to get other people interested in you."
Dale Carnegie
Yes, the opening and closing ceremonies of the Vancouver Olympics will take place in the
60,000 seat
BC Place Dome.
Vancouver has been voted the worlds most beautiful city on many occasions. If you have never been here you are in for a wonderful experience. We are certain you will agree with the above.
The BC Place dome was built in 1983 and cost a cool $126 million at that time. It was an idea to attempt to rebuild the downtown. It's located alongside the False Creek waterway.
For many generations heavy industry including ship building and ship repair, cable and anchor foundries, wire rope works, in fact almost everything required in the shipping industry was manufactured here. These industries were served by a railroad and roundhouse.
If ever a wise seed was planted, it was the idea to rebuild that has resulted in what must be now the most successful rebuild of all time.
It was used for the opening of the 1986 Worlds Fair (see Expo 86 museum) a unique on line museum.
Once the fair ended, the site was cleaned up and eventually sold and thousands of beautiful, up scale condominiums were constructed.
Today the ugliness of the past is nothing but a memory. The old train turntable is now a museum. On the opposite side of False Creek is an area called Granville Island that visitors must see. Located there is a good museum based upon the heavy industry of the past.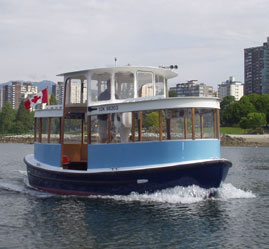 Granville Market. It's a wonderful place to visit with a huge busy market and amazing shops offering top quality hand crafted goods. Watch the artists blow glass and create masterpieces.
The Vancouver Olympics will be held in February and it rains quite often during that time so to be able to hold the ceremonies indoors is a tremendous advantage. The BC Place dome is used over 200 days each year. Trade shows of every description, football games (BC Lions), monster truck shows, Outdoor Adventure shows.
Community events such as the Vancouver Sun Run, an annual charitable event with over 40,000 runners, BC High school football championships and the BMO Mini soccer Festivals are held here.
Here are a few Facility Facts.
There is enough concrete in BC Place to build a sidewalk from Vancouver to Seattle, Washington.
The facility floor has been turned into an ice rink, an Opera House and a forest.
Features a fully balanced sound system with over 200 closed circuit television monitors.
The digital scoreboard measures 22 X 40 feet featuring flat matrix cathode ray tubes with a dot density of 2,500 dots/square meter.
It has 50 revolving doors for quick, easy access. Vancouver Olympics will have a lot of attendees.
So what about the roof?
The roof is fascinating. It is made of Teflon coated fiberglass and is the largest air-supported dome in the world. It is pressurized by 16 jet engine fans.
The roof is 10.25 acres in size consisting of two layers. The layers are only 1/30 of an inch (0.85 millimeters) thick.
Olympic Facts.
Home to the 2010 Vancouver Olympics opening and closing ceremonies.
Home to the 2010 Paralympics Opening and closing ceremonies.
Host of the nightly victory ceremonies for the 2010 Olympic games.
The world comes to BC Place.
Los Angeles Galaxy and the Vancouver whitecaps in Nov. 2007
World Police & Fire games 2009
Queen Elizabeth ll The royal Family, The Sultan of Brunei, Bill Clinton, Pope John Paul ll
Rolling Stones, The 3 Tenors, U2, Pink Floyd
Expo 86 Worlds Fair, International Conference on AIDS
Return to Olympic Games Home Page for all of the games.
Return from Vancouver Olympics to Whistler Outdoors