TEA BISCUITS
by BEV
(TRENTON ONT)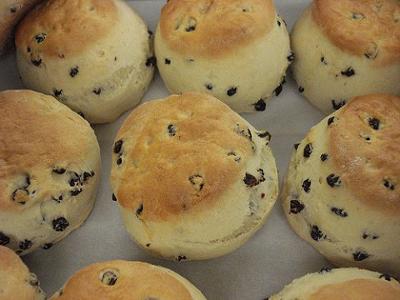 Tea Biscuits With Raisins Added
2 cups flour
1 heaping tablespoon of baking powder
1/2 tsp salt
1/2cup shorting
1cup milk.
Heat oven to 425deg.
Place dry ingredients in a large bowl. Stir together until well mixed.Add shortening and cut with a pastry blender until mixture is size of small peas.Add milk and stir just until dough can be gathered up in a ball.Do not over-stir. Turn dough out onto a lightly floured surface and knead briefly about 7 or 8 times. Pat or roll lightly to 1/2inch thick.Cut with cookie cutter or top of a small glass and place on ungreased cookie sheet.
Bake for 12 mins.
Join in and write your own page! It's easy to do. How? Simply click here to return to Invitation 10 cooking.