RVing Through the Beautiful Canadian Rockies
by Peggy
(Texas)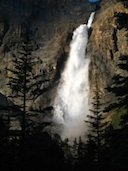 Canada's Gorgeous Takakkaw Falls
RV Living is, in our opinion, the best way to see--really see (and experience)--the country! One of our most memorable trips was through the majestic Canadian Rockies!



Hidden Treasures!
The picture above is of the Takakkaw Falls in Yoho National Park. We found this beautiful waterfall as we made our way from Banff to Jasper. No one told us about it. We were just out exploring one day (that's one of the beauties of RVing) and happened upon it.
What stands out about this region?



National Parks. There are four joined together--Banff, Yoho, Kootenay and Jasper.



Glaciers along the highways



Crystal blue lakes that are beyond comparison



Rushing rivers filled with beautiful glacier milk



The opulent and historic Banff Springs Hotel and Chateau Lake Louise (We didn't stay there--we leisurely strolled through these grand structures.)
After camping in Banff for several days, celebrating Canada Day with our new friends from Edmonton, we made our way northward to Jasper...
Canada has some of the most reasonably priced campgrounds around. We stayed at several "full service" RV parks and we
boondocked
at some of the more remote camp grounds. For us, it just depends on where we are when we decide we want to stop for the night... Or, for a few days. Which brings us to our:
TOP reasons for RV living and RV travel.
FREEDOM!
How else can you travel and have the complete freedom to wake up to the beauty of the mountains on one day and wake up to the sounds of the sea on the next day?
CONVENIECE.
No need to worry about packing and repacking all the luggage. ...And, no need to worry about carrying your bags in and out of hotels. Everything is already with you. If you're hungry--stop and eat. The food you like is with you, too.
NO AIRPORTS.
Over the years, air travel has become more and more challenging. With an RV, you can simply drive to whatever location you chose. No schedules to worry about. No cancelled flights to worry about.
FLEXIBILITY.
When you find a place you really enjoy, you can, most likely, stay as long as you like. There are seemingly an endless number of RV parks and campsites in almost any area in the United States and Canada.
COMFORT.
You're in your own home (on wheels). You sleep in your bed. You can stop along the way, any time you want, if you need or want a break.
COST.
We've done the math. Your mileage will depend on the type of RV you have, of course, but, for motorhomes, you can estimate an average of 7-8 miles per gallon regardless of whether it's a gas or diesel rig. So, where's the savings? Inexpensive campsites and meals.
We've been RVing for almost a decade and have seen some of the most fabulous sights, met some of the nicest people and learned a great deal about the beauty that awaits us in our own back yards. We have some of the most incredible memories from our trips.
Got your curiosity piqued about RVing? Visit
RV Living Unlimited
to learn more about this incredible way of life.