Retirement Adventure
by Dalene Tibbs
(Everywhere, North America)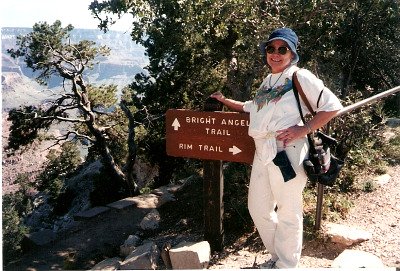 Backpacking in the Grand Canyon
My husband and I retired in 2002. Being young "old people", we weren't interested in relaxing. We bought a classic Allegro RV and hit the road.

We were also not interested in staying in cushy campgrounds with all the amenities.
We installed solar panels and a generator, freeing us from the electrical grid. The rv is 25 feet long, so we tow a smaller camper van for access to places the larger rig couldn't go.

So what was our goal? To hike as many trails and non-trails as we could find.

We hiked barefoot on sandy beaches and across the sands of White Sands National Monument in New Mexico. We hiked into the Grand Canyon in Arizona. We hiked up mountains just to get to the top. We hiked to Indian Cliff Dwellings. We hiked to hot springs that had no road access.

Sometimes our hikes were more like easy walks if there was something to explore like a Mimbres Ruin beside the road in New Mexico.

We have chronicled our adventures on our rv-camping-and-hiking website , along with interesting information we picked up about the locales we visited. There are also some tips on the rv camping and hiking lifestyle.
Join in and write your own page! It's easy to do. How? Simply click here to return to Invitation 2 Share Your story.