Chocolate Almond Torte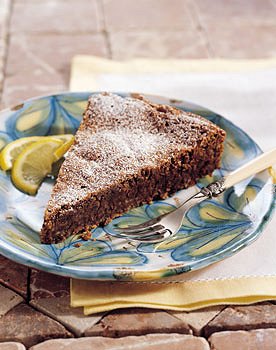 Chocolate Almond Torte
Chocolate Almond Torte

This is my favorite Torte recipe. Easy to make and is always a big hit with my friends. I think I've made it 10 times in the past year, it is so popular. Hope you enjoy!

Ingredients
1 1/2 cups blanched slivered almonds
1 cup sugar
8 ounces bittersweet (not unsweetened) or semisweet chocolate, chopped
5 large eggs, separated
1/2 teaspoon almond extract
1/2 teaspoon grated lemon peel
1/2 cup (1 stick) unsalted butter, melted, cooled
1/4 teaspoon salt
Powdered sugar


Preparation

Preheat oven to 350°F. Butter 10-inch-diameter springform pan with 2 3/4-inch-high sides. Combine almonds and 1/3 cup sugar in processor. Blend until almonds are very finely ground. Transfer almond mixture to medium bowl; do not clean processor. Add chocolate and 1/3 cup sugar to processor. Blend until chocolate is finely ground but not beginning to clump, about 45 seconds; stir into almond mixture.

Using electric mixer, beat egg yolks and remaining 1/3 cup sugar in large bowl until mixture falls in heavy ribbon when beaters are lifted, about 5 minutes. Beat in almond extract and lemon peel. Fold in chocolate-almond mixture, then butter.

Using clean dry beaters, beat egg whites and salt in another large bowl until stiff but not dry. Fold whites into chocolate batter in three additions. Transfer batter to prepared pan.
Bake cake until tester inserted into center comes out with moist crumbs attached, about 40 minutes.

Cool cake completely in pan on rack. (Can be made 1 day ahead. Cover; store at room temperature.) Cut around pan sides to loosen; release sides. Sift powdered sugar over cake. If you like, add some fresh berries for an even prettier cake.
Click here to read or post comments
Join in and write your own page! It's easy to do. How? Simply click here to return to Invitation 10 cooking.